New SENER Asia & Pacific Directors Appointed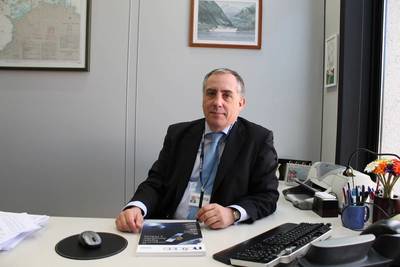 Alfonso Cebollero has been appointed as SENER's Regional Director for Asia and Pacific, while Guangwu Liu has become SENER's new Country Manager in China. Both will coordinate the Engineering and Technology Group's projects in the above-mentioned geographical areas where SENER's CAD/CAM activity is especially remarkable in the shipbuilding sector.

Alfonso Cebollero is a Naval Architect graduate from the Polytechnic University of Madrid (UPM) and holds a Master's Degree in Business Administration (MBA) in Marine Business from the ICADE business school, in Spain. He carries out his new responsibilities based in Busan (South Korea).

Guangwu Liu Guangwu is a Naval Architect graduate from the Wuhan University of Technology (WHUT), in China, and holds a PhD in Systems Engineering from the Huazhong University of Science and Technology, also located in Wuhan. He joined SENER's Marine Systems Department as Commercial Manager for China in 2008.

In parallel with the coordination of shipbuilding projects, both managers will be responsible for identifying business opportunities in the other three business areas of SENER in the field of Engineering and Construction, ranging from Aeroespace to Infrastructures and Transport as well as Power and Process.

SENER inform that Japan and South Korea are currently the worldwide leaders in shipbuilding; combined, the three countries produce 90% of the world's ships and SENER estimates that, in 2016, 40% of the Marine revenue will come from this region, which gives an idea of its strategic importance.

For this reason, SENER's Marine Unit is strengthening its presence in Asia, where it has signed licensing and service agreements for FORAN with shipyards, classification companies and engineering centers from CSIC and CSSC in China, Sanoyas, Tsuneishi and Class NK in Japan, and Udin and Posco Plantec in South Korea.

SENER is a private engineering and technology group founded in 1956, which seeks to offer its clients state-of-the-art technological solutions. It has a workforce of more than 5,500 professionals working in offices in Algeria, Argentina, Brazil.