Disabled Fishing Vessel Towed to Montauk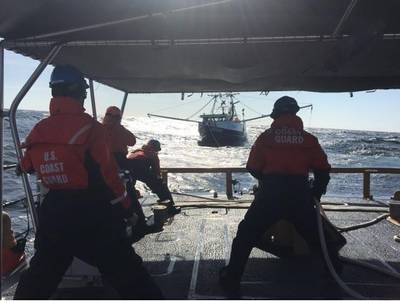 U.S. Coast Guard crewmembers assisted in towing a 58-foot commercial fishing vessel after it became disabled Saturday about 50 nautical miles south of Shinnecock Inlet.

Watchstanders at Sector Long Island Sound command center received notification at approximately 7 p.m. Saturday night that the fishing vessel Bookie was disabled and adrift with four mariners aboard.

The vessel became disabled due to an engine casualty but still had power via an on-board generator. Commercial Salvage was initially contacted to tow vessel, but was unable to respond that far offshore.

Coast Guard Cutter Sitkinak, home ported in Miami Beach, Fla., was moored nearby and responded, placing fishing vessel Bookie in tow at about 3 p.m. Sunday.

The Sitkinak towed the Bookie to Montauk, N.Y. arriving at approximately 7 a.m. Monday. Coast Guard crewmembers aboard a 47-foot motor lifeboat took over tow and took the vessel to Fort Pond Bay, where it is safely anchored.

Fishing vessel Bookie has established a tow to take them back to Shinnecock.

No medical concerns were reported.