LOC Sponsor Disabled Crew for Lord Nelson Tallship Voyage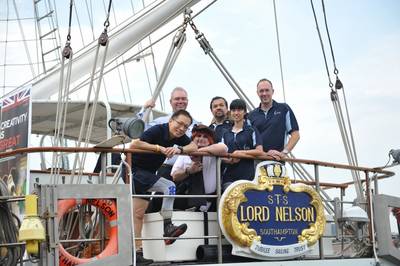 British High Commissioner to Singapore, Antony Phillipson presented awards to Ong Shi Yi, who is deaf, and Jim Bek, who is blind, both of whom were sponsored by London Offshore Consultants (LOC) to take part in a special six-day voyage out of Singapore, part of Lord Nelson's Norton Rose Fulbright Sail the World Challenge – which sees the ship embarked on a 50,000-mile circumnavigation.


The British High Commissioner later climbed one of Lord Nelson's 33.7-meter masts, accompanied by Singaporean mountaineer David Lim and Ong Shi Yi, cheered on by children with special needs from Singapore's Rainbow Centre who enjoyed tours of the ship and pirate-themed activities.


"LOC is delighted the Jubilee Sailing Trust asked us for help planning the visit of the Lord Nelson to Singapore," said Nick White, a director at LOC in Singapore, who dressed as a pirate to host the children from the Rainbow Center. "In the 26 years we have been in our Asia headquarters, this has been the most worthwhile community project we've involved in. The crew foster a real 'cab do' spirit on board, working to provide a fully inclusive environment that gives everyone, regardless of physical ability, the chance to show how they can contribute and work as part of a team. We've been so pleased to help arrange the visit, and to sponsor two wonderful people to help crew the ship."


Lord Nelson will set sail from Singapore for Fremantle, Australia on Monday June 10. Berths are still available for disabled and able bodied participants. No experience is required.