Deep Secrets of the Slippery Eel Discovered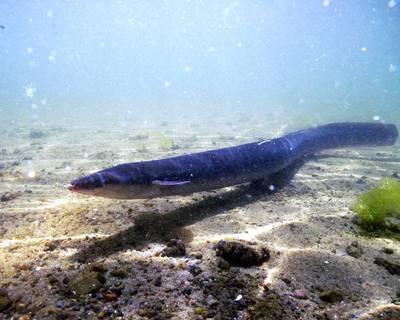 The European eel is one of the world's many critically endangered species. Comprehensive protection is difficult because many details of the eel's complex life cycle remain unknown. In a multidisciplinary study, biologists and oceanographers at GEOMAR recently demonstrated the crucial influence of ocean currents on eel recruitment.
Researchers did this by using, among others, a state-of-the-art ocean model developed in Kiel, in combination with genetic studies.

Smoked, fried or boiled - the European eel (Anguilla anguilla) has always been a popular fish in Europe. Even though people have consumed it for millennia, the origin of the eel has long been shrouded in mystery. While the fish spend most of their lives in fresh and coastal waters, spawning and the birth of the larvae take place in the Sargasso Sea in the central Atlantic Ocean, about 4500 km away from the European coastlines.

In a multidisciplinary study recently published in the international journal "Current Biology", biologists, geneticists and theoretical oceanographers at GEOMAR, together with colleagues from Hamburg, London, Belfast and Antofagasta (Chile), discovered a relationship between ocean currents and the variation in eel recruitment. 


The model simulation was run for 45 years, and in each of these years, the researchers seeded the Sargasso Sea with 8 million tiny drifting particles. "They represent the eel larvae which, for the first few years of their life, mainly drift with the currents," says biologist Dr. Christophe Eizaguirre from GEOMAR, who initiated the study. External factors, like wind and weather conditions, were the same in the model as the conditions observed in each year from 1960 to 2005. "We were able to track how the larvae migrated to Europe. Only those who reached the European shelf seas within two years were considered viable. This also corresponds to eel life cycle," explains Dr. Eizaguirre.


The researchers found that small-scale, wind-driven ocean currents strongly determine the eel population fluctuation. Depending on the presence of regional currents in the Sargasso Sea, the larvae's path to Europe was either extended and led to low recruitment or shortened leading to high recruitment in Europe.

Combining those discoveries with genetic analyses, the scientists found evidence that, contrary to what is typically thought, eels do not return to random locations in the Sargasso Sea to reproduce but rather return to where their mother spawned in particular locations within the Sargasso Sea.
http://www.geomar.de/en/