Deep Impact Boats on Display at MBIBS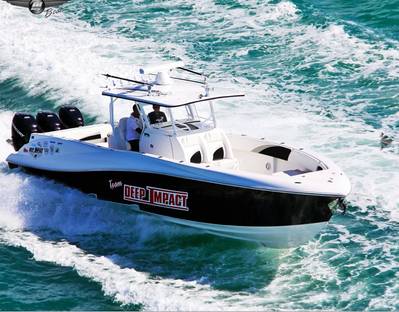 Deep Impact Boats to display a variety of their powerboat models at the Miami Beach International Boat Show (MBIBS).

In less than a week, Miami-based brand Deep Impact Boats will exhibit over 3 new, custom built boats at the Miami Beach International Boat Show (February 14-18). Each boat is unique as they each have tailored parts and finishes to demonstrate the unlimited options available to customers.

According to Director of Sales and Marketing Charles, Kim Bradley, Deep Impact boats are perfect for those customers with selective taste, they are able to manufacture the boat of their customers' dream or combine it with their other toys.

Deep Impact will have a total of 3 boats inside the convention center at booth B72 including: 399 deep blue, a 360 C in a luxurious summer Orange, and the new 330LS silver, black and orange the sportiest yacht tender around.

Owner Lazaro Hernandez , Sales and Marketing Director Charles (Kim) Bradley together with other marine experts will be onsite to provide additional details about each model.

About Deep Impact Boats:
Deep Impact Boats designs, develops, manufactures, markets, services and supports its boating clientele from its 50,000 square foot facility in Miami, FL. They have crafted several 100 boats for customers around the world since 1998.