NUWC Division, Newport Signs EPA with New Bedford Whaling Museum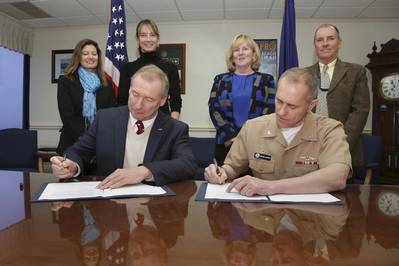 Capt. Michael R. Coughlin, commanding officer of the Naval Undersea Warfare Center (NUWC) Division, Newport, and James Russell, president and chief executive officer (CEO) of the New Bedford Whaling Museum (NBWM), signed an education partnership agreement (EPA) for undersea acoustic research during a brief ceremony on Friday, March 31.
Under the EPA, NUWC Newport will provide research, expertise, and material on the Navy's historic and current role in marine mammal research in conjunction with the museum's recently acquired collection of historic marine mammal recordings, photographs and collection equipment.
The William A. Watkins Collection of Marine Mammal Sound Recordings and the William E. Schevill Collection of Images and Instruments, donated to the NBWM by the Woods Hole Oceanographic Institute (WHOI) in 2014, will form the basis for an upcoming major exhibition which will display audio and visual materials related to bioacoustics within the larger context of whale ecology, conservation, and ocean health.
Much of the pioneering bioacoustics research conducted by Watkins and Schevill from the 1940s to the 1990s involved collaboration between WHOI and the Navy's Underwater Sound Laboratory in Newport, which was incorporated into the Naval Underwater Systems Center in 1970, now part of NUWC Newport, which continues to play an important role in this field.
This EPA provides a means for the Navy to assist in the development of the exhibit, which will provide a unique opportunity for the public to learn about historic research and current investigations in the study of marine mammal bioacoustics.
The EPA permits direct cooperation between NUWC Newport and the museum to promote education in science, mathematics and business from which NBWM can benefit from NUWC Newport's interest in undersea acoustic research.
NBWM's participation will encourage and support student interest in science, mathematics, business, law, technology transfer or transition, and computer science, and engineering at other educational institutions. This cooperation may benefit NUWC Newport in terms of advance training of future employees, and may benefit the country by exposing students to career opportunities in government research and development.
Currently, NUWC Newport supports a wide variety of science, technology, engineering and mathematics (STEM) outreach activities in the New Bedford public schools including programs in maritime education, robotics, mathematics, and engineering that reaches more than 3500 students annually. About two dozen NUWC employees are engaged in the schools from the fourth grade through high school.
NUWC Newport is a shore command of the U.S. Navy within the Naval Sea Systems Command, which engineers, builds and
supports America
's fleet of ships and combat systems. NUWC Newport provides research, development, test and evaluation, engineering and fleet support for submarines,
autonomous underwater systems
, undersea offensive and defensive weapons systems, and countermeasures associated with undersea warfare.
NUWC Newport is the oldest warfare center in the country, tracing its heritage to the Naval Torpedo Station that was established on Goat Island in Newport Harbor in 1869. NUWC Newport maintains major detachments in West Palm Beach, Fla., and Andros Island in the
Bahamas
, as well as test facilities at Seneca Lake and Fisher's Island, N.Y. and Dodge Pond, Conn.