DLBA Partners with Champion's Auto Ferry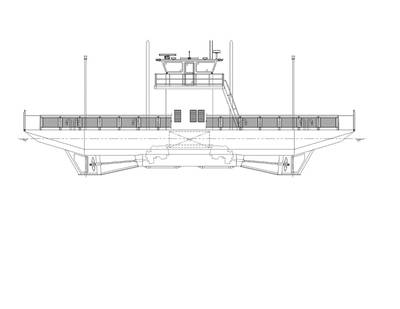 DLBA has announced a partnership with Champion's Auto Ferry for the development of a new 84ft x 31ft double-ended ferry.
The design is compliant with USCG regulations for commercial passenger Subchapter T operation in Michigan and has been ruggedized for rigorous all-weather operation. Designed to fit three car lanes by integrating a lightweight deckhouse design for the local river operation, the vessel provides an optimal platform for roll on / roll off service enhanced by Champion's proprietary ramp design.
The vessel's all steel construction hull has been designed to ABS SVU90M, and special care has been taken to increase structural strength for ice and high-impact side loading that could occur in operation. The large open deck has been designed to withstand the most severe vehicle loadings, allowing for the vessel to carry the heaviest land-based construction and lifting equipment.
Flexibility is a key aspect of the design to allow for the technology of today as well as for the future. The first vessel is designed with a twin-propulsion package of Cummins QSL9's and Twin Disc gears; and the design will accommodate other propulsion packages from Caterpillar, Volvo, and John Deere. Provisions for a modular dry exhaust are being provided to allow for simpler engine maintenance and flexibility.