Rig Too Big for Drydock: Dockwise Liftboat Fills the Bill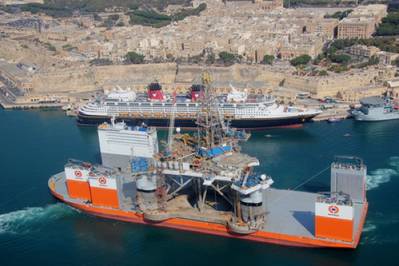 Royal Boskalis Westminster (Boskalis) subsidiary Dockwise was contracted to provide an alternative form of dry docking in the Mediterranean for a semi-submersible drilling rig too big to fit into any dry-dock in the region.
It was realised that the company's Dockwise Vanguard was uniquely positioned for this type of large scale dry docking, not only the transportation of very large and heavy structures. The drilling rig was loaded onto the liftboat allowing inspection and repairs to be made to normally underwater parts of the rig.

Also assisting in the project was Boskalis subsidiary SMIT, providing underwater inspection and temporary repairs prior to loading the vessel onto the Dockwise Vanguard.

Boskalis viewed this project as strategically important demonstrating the opportunities for combining maritime services and assets across the breadth of the company. Furthermore, the use of the Dockwise Vanguard for dry docking purposes shows the versatility of the vessel. Initially positioned for the heavy marine transport of large integrated structures, the recently announced transportation of a Floating Production, Storage and Offloading unit (FPSO) and this successful dry docking demonstrate the broader potential of the vessel.

The group offers a wide variety of marine services and contracting for the offshore energy sector including subsea, heavy transport, lifting and installation (through Boskalis Offshore and Dockwise) and towage and salvage (through SMIT).