Hostar Dollies and Boat Stands Aim for Safe Storage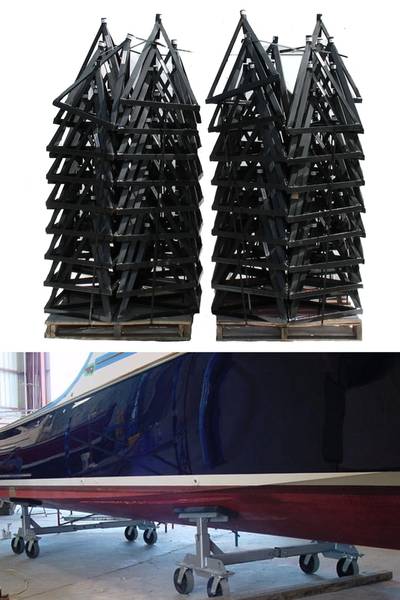 Marinas, boatyards and showrooms depend on quality boat stands and dollies to ensure boats are properly stored.
Hostar Marine boat stands and dollies are designed for both powerboats and sailboats. Featuring true stackability, Hostar's boat stands let owners store more boats by eliminating reliance on bulky cradles. When boats are in the water, the stands can be stacked out of the way. They also offer more ground contact, so no dunnage is needed. Hostar boat stands provide 108 sq. in. of ground contact. Offering easy inspection and maintenance, they feature angle iron construction. This enables owners to repaint the stands as needed.

Although boats are designed to move gracefully on the water, they're awkward at best on land. Titan dollies are engineered to handle boats from 10,000 to 25,000 lbs. with exceptional ease, safety and maneuverability. Their expandable frames enable users to position each dolly pad for ideal hull support and for setting between strakes. Hostar offers over a dozen standard dolly models. Owners can also order custom dollies to match exact specifications. Hostar dollies feature rugged steel tubing construction that won't twist or bend and tough, long-lasting roller bearing phenolic casters with grease fittings that move smoothly on flooring, cement or pavement. Carpeted pads protect a boat's surface and adjust from 8" to 12" above dolly frame. The Hostar exclusive telescoping connecting bar joins two dollies, providing added stability. Optional tech-lock brakes are also available.