Maersk Drilling Profit $358-million in 2012, Eye on a Billion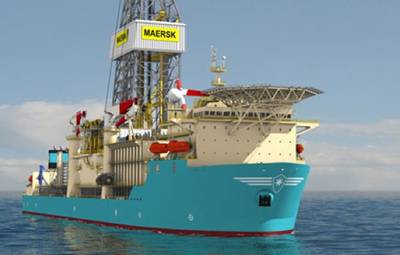 Maersk Drilling release its financial summary statement for year 2012.
With high contract coverage for the coming years and the delivery of seven new large rigs in 2013-2015, Maersk Drilling says it is on track towards to reach its target of a profit of USD 1 billion by 2018. The full year result for 2012 was, however, negatively impacted by costly start-up issues on two drilling rigs.

Maersk Drilling's profit for 2012 was USD 359 million compared to USD 488 million in the record breaking year 2011. The result was negatively impacted by more than USD 125 million due to the delayed start-up for two rigs in 2012. The delay was caused by prolonged maintenance yard stays and operational issues.
"The result for 2012 is not satisfactory. Maersk Drilling had start-up issues on two rigs, Maersk Discoverer and Maersk Endurer, which meant loss of day rates and additional costs for maintenance of the two rigs. However, looking forward Maersk Drilling has a strong forward contract coverage providing us with a high degree of earnings visibility, which provides us with a solid basis for our future growth," says Claus V. Hemmingsen, CEO of Maersk Drilling and member of the Executive Board of the A.P. Moller - Maersk Group.
By the end of 2012, Maersk Drilling's forward contract coverage was 98% for 2013. For 2014 the forward contract coverage is 76% and 51% for 2015.

Maersk Drilling currently has seven rigs under construction, including three ultra harsh jack-up rigs and four ultra deepwater drill ships corresponding to a committed investment of USD 4.5 billion. Of the seven newbuild rigs, contracts have already been secured for five rigs totalling a contract backlog of 17 rig years and an estimated revenue backlog of around USD 2.9 bn.