Panama Canal to Limit Cargo on Bigger Ships amid El Nino Drought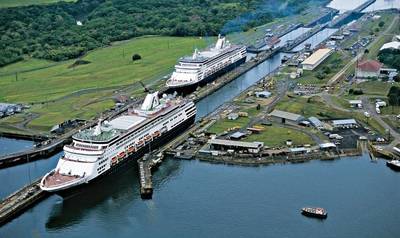 The Panama Canal Authority said that next month it will temporarily limit the amount of cargo for larger ships using the waterway because drought has lowered water levels in Gatun and Alhajuela lakes, reports AP.
Earlier there were reports that the size of ships will be temporarily restricted due to drought conditions. The class of ship allowed to transit the waterway isn't being limited, only the amount of cargo larger ships can carry.
The restrictions, which are the first such hold-down because of weather in nearly 20 years, takes effect Sept. 8 and had been expected by shippers. Only a minority of ships now using the canal will be affected, the authority said.
"Ships loaded on or after Aug. 11, 2015, must comply with the restriction and may be required to trim or off-load cargo," the authority said. The move affect up to 20 percent of current traffic.
Scientists have warned about the potentially devastating effects of El Nino; a phenomenon which sees above-normal temperatures in the Pacific Ocean cause extreme weather around the world. Both droughts and flash flooding are amongst the most dangerous consequences.
For each ship that goes through the canal, about 52m gallons of water are required; equivalent to about 82 Olympic sized swimming pools. The Panama is one of the world's main trade routes and connects the
Atlantic Ocean with
the Pacific Ocean.
The Panama Canal, 77 kilometers (48 miles) in length, is an important transport link between the Atlantic and Pacific Oceans.