Drydocks World Delivers Polarcus Selma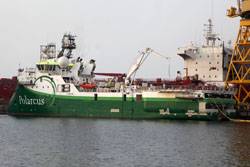 Drydocks World recently delivered seismic vessel Polarcus Selma to its owner, Dubai-based geophysical services company Polarcus. Polarcus Selma is among a series of vessels that were built at the Dubai facility for Polarcus and others with a vessel CAPEX of $135 million.

Polarcus Selma is an Arctic-ready, eight-streamer 3D seismic vessel of the Ulstein SX133 design, built to tow both conventional and wide tow spreads, including the Company's First PassTM 3D technique. The SX133 design has an overall length of 84.2m and a beam of 17m. Polarcus Selma has a maximum speed of 17 knots and is designed to deploy up to eight streamers each of 6,000m length, or six streamers each of 8,000m length, with lateral streamer separations of between 25 and 200 meters.

Like its predecessors the vessel was designed to be environmentally-friendly with diesel-electric propulsion, high specification catalytic convertors, grounding avoidance systems, double hulls, and advanced ballast water treatment/bilge water cleaning systems.