Drydocks World Wins HSEAward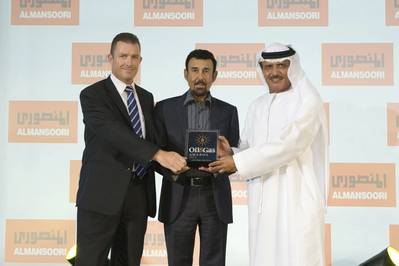 Drydocks World, an international service provider to the maritime, oil and gas and energy sectors, received the Award for the Health Safety and Environment Project (HSE) of the Year at the fourth Oil & Gas Middle East Awards hosted by publisher ITP Business on October 9, 2013 in Abu Dhabi.

The ceremony was attended by key decision-makers and professionals from the Middle East's upstream oil and gas community and celebrated excellence amongst this sector. The Awards sought out best-in-class organizations, projects and the people who have proven that going that extra mile made a real difference.

The award was received by Khamis Juma Buamim, Chairman of Drydocks World & Maritime World. This award citation maintained that Drydocks World has led the entire industry in maintaining high standards of health, safety and environment and had shown a genuine interest in promoting behavioral changes to make the lives of employees safer, healthier and operations more environmentally friendly.

The Health & Safety department comprises of fully trained and competent personnel and trained Emergency Response Teams. All personnel responsible for conducting risk assessments are fully trained in Risk Control process, and undertake all generic and specific assessments so all activities are safely and efficiently controlled throughout. This award reflects the high confidence of the construction sector in oil & gas on the constant and continuous efforts, and the commitment of management and staff of towards the high standards and strict procedures followed in Drydocks World.

Drydocks World has succeeded in acquiring world leading projects for key global players on the back of its excellent reputation in the highest possible standards in HSE. These include the world's largest turret for Shell's Prelude FLNG in Australia, the Solan subsea storage tank – one of the largest - for Premier Oil in the UK, the gigantic DolWin beta HVDC Offshore Platform Structure for wind energy farms off Germany and the conversion of tankers-to-Modular Capture Vessels for AET Ship Management in the Gulf of Mexico. It has achieved major milestones in HSE on all these projects. The company has also been nominated to receive the British Safety Council Sword of Honor for 2013 and has received a very high rating in the overall assessment. Drydocks World also has the ISO 14001 and BS OHSAS 18001 certificates for Occupational Health & Safety and Environment. The company received recognition recently through American Petroleum Institute (API) Specification Q1 certification for the shipyard's Quality Management System which is suited to the requirements of the offshore oil and gas sectors.