Drydocks World Launches Global Offshore Services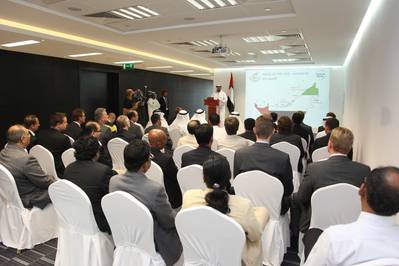 Drydocks World announced the launch of its Drydocks World - Global Offshore Services arm at a special ceremony organized at Dubai Maritime City, the new business units located in Fujairah and Dubai Maritime City and Drydocks Dubai.
This Division has at its disposal technical teams to be mobilized at short notice to service vessels at distant offshore locations and well-equipped workshops in the Emirates of Dubai and Fujairah to offer support services.


"The reinforcement of Drydocks World - Global Offshore Services with an extension in Fujairah supporting our main workshop in Dubai is part of our long-term business strategy. Our vision is to broaden the reach of our services and to cater to repair and maintenance needs of vessel, Rigs and Yacht owners at offshore locations and overseas. The unit works 24 hours and week (24/7). It is a move to provide the know-how and technical expertise far and wide. The accumulated expertise and experience of the shipyard further adds value to the services that we offer," said Khamis Juma Buamim, Chairman of Drydocks World and Maritime World.