Drydocks World Builds Second 3-D Seismic Vessel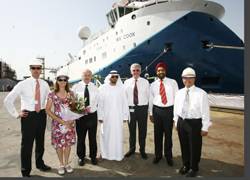 Drydocks World – has built the seismic vessel NB65 for its client WesternGeco. A naming ceremony for the vessel, now called 'WG Cook' was held at the yard on July 1, 2010.
The ultra modern high capacity 12-streamer 3-D seismic vessel is the second built at the yard for WesternGeco, a business segment of Schlumberger and one of the world's leading geophysical services company. The first vessel, WG Tasman was handed over in the first quarter of 2010.
The vessel, now undergoing final touches, is 88.8 m in length, 8 m in depth, 19 m in width and is of Ulstein SX 124 design, incorporating the innovative X-bow hull design for exceptional performance in speed, fuel efficiency, and reduced noise and reduced vibration. The yard took great care to ensure the ship's functional capabilities meet the stringent demands of offshore seismic operators.
The diesel-electric propelled, DP2 class 'WG Cook' incorporates many features to enhance performance and complies with DNV Clean Design to ensure minimum emissions.
Michael Tang, Project Manager, WesternGeco said: "WG Cook is a latest state of art vessel incorporating the proprietary Q-Marine Technology to enhance reservoir characterization, delineation, and monitoring. We are pleased with leadership and commitment as shown from the shipyard into meeting the goals of this project."