Drydocks World Claim Shipyard Heavy Lift Record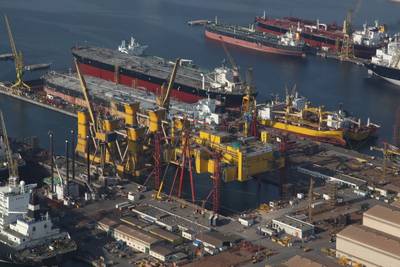 The company says it created history in marine and offshore operations when they lifted the 10,000-tonne topside of the first gravity base of the semi-submersible (and world's largest offshore HVDC platform structure) 'DolWin Beta' to a height of 52.8 metres from the dock bottom.

The complex mating operation was carried out on DolWin beta which is under construction at the shipyard. The environmentally friendly system will act as a 900 MW electricity transmission link that will connect offshore wind farms located at the DolWin wind farm area near Helgoland in the German sector of the North Sea. It will be managed by Aibel from Haugesund, Norway. The German company TenneT Offshore has awarded the contract to ABB for the supply of power through the transmission link.

The heavy lift was part of the mating operation of the topsides with the substructure. The operation consisted of lifting topsides by strand jacks and floating the substructure in the dock and then carefully moving it under the lifted topsides. The topsides were then lowered subsequently to lock with the substructure. Dedicated teams from Drydocks World, Aibel, ABB and TenneT worked for months to achieve this result.

His Excellency Khamis Juma Buamim, Chairman of Drydocks World & Maritime World said, "We have taken our engineering excellence to greater heights through this unique and remarkable feat. It is a significant first and speaks volumes of our strengths in terms of technical capabilities."