Drydocks World Delivers Multi-purpose OCV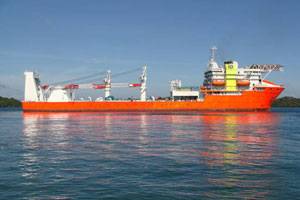 Drydocks World, the global maritime arm of Dubai World, announced the delivery of OSA Goliath, one of the world's largest multi-purpose OCVs at its Drydocks World – Pertama yard on April 23.

OSA Goliath is built for Coastline Maritime, a prominent Singapore-based group with a 30-year history of vessel ownership design, construction and operation. The vessel dimensions are 590.5 ft by 105 ft by 39.5 ft and 22,000 dwt. It is equipped with DP-3 and a 2,000-tonne crane to install offshore platforms and pipelines in deep waters. In addition to OSA Goliath, Coastline has a similar vessel, Samson, currently under construction at the same shipyard, scheduled for delivery in the first quarter of 2010.

Terry Highlands, CEO of Coastline Maritime said, "Our ships, constructed at Drydocks World – Pertama yard, are the world's largest multi-purpose offshore construction vessels. The projects could not have been realized without the focus on high safety standards, technical expertise and teamwork evident at the yard."

Drydocks World - Southeast Asia, established in April 2008, is a member of the Drydocks World group of companies and sister operation to Drydocks World – Dubai (formerly known as Dubai Drydocks).