New Chinese LNG's Choose Wärtsilä Dual-Fuel Engines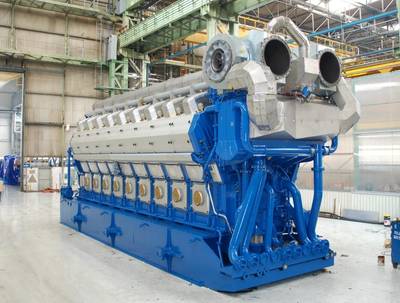 Wärtsiläis to supply its Wärtsilä 50DF dual-fuel engines and propulsion systems for two liquefied natural gas (LNG) carrier vessels under construction in two Chinese shipyards.
The two orders are similar in scope of supply but have been issued separately. The first is from the Ningbo Xinle Shipbuilding Group Co., Ltd together with its trading partner, Shanghai CSR Hange Shipping Engineering Co., Ltd. The other order has been issued by Cosco (Dalian) shipyards .The ships are being built for two different Chinese owners, the Zhejiang Yuanhe Ocean Shipping Company and Dalian Inteh Group Co.,Ltd.
Each vessel will be powered by a Wärtsilä 50DF engine, a Controllable Pitch Propeller (CPP), a gearbox and related systems. The Wärtsilä 50DF engines selected to power these vessels will enable them to operate primarily on LNG while retaining the option to switch to conventional marine fuels if necessary. Deliveries of the Wärtsilä equipment are scheduled to begin in the summer of 2014, and the ships will be launched approximately one year later. They will operate mainly in Chinese waters, and will transport LNG between terminals and to other ships.
The Wärtsilä 50DF engine
The Wärtsilä 50DF engine is manufactured in various configurations from a 6-cylinder in-line version to an 18-cylinder version in V-configuration, giving 950/975 kW per cylinder and a total maximum mechanical output of 17,100 kW. The engine speed is 500 or 514 rpm with 50Hz and 60 Hz applications. The maximum thermal efficiency is higher than with any other gas engine.

When operating in gas mode, the nitrogen oxide (NOx) emissions are at least 85 percent below those specified in the current IMO regulations, and CO2 emissions are some 25 percent less than those of a conventional marine engine running on diesel fuel. Additionally, the sulphur oxide (SOx) and particle emissions are negligible at almost zero percent.