Dunkerque-max M/V Cape Garland Delivered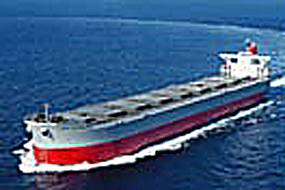 Mitsui Engineering & Shipbuilding Co., Ltd. completed and delivered the 177,000 dwt type bulk carrier MV Cape Garland (Hull No. 1693) at its Chiba Works on January 30, 2009.
This ship is the newly designed Cape-size Bulk Carrier of Dunkerque-max Type. It has a double-side skin to cargo holds construction.
A Dunkerque-max type is a common name for Cape-size Bulk Carriers built to the restriction of the port of Dunkirque, France.