Dutch/Bangladesh JV Delivers Dredges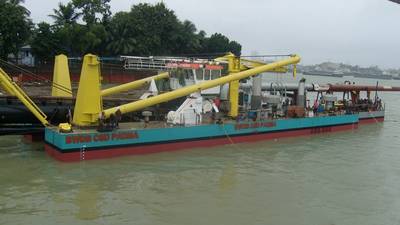 In late 2008 a joint venture was formed between the Netherlands based Vosta LMG and the Bangladesh Karnafuly Shipyard to build three CSD450 cutter suction dredgers for the Bangladesh Inland Water Transport Authority.
At the same time construction was underway to an agreement that had been signed with the Bangladesh Water Development Board for two CSD650 cutter suction dredges under the same joint venture. The model numbers 450 and 650 designate the diameter in centimeters of the dredge's internal discharge pipe.

Both of these larger dredges were delivered in mid-year 2012. With an overall length of 60 meters and a 35-meter hull, the vessels' cutter-suction heads and arms are capable of working to depths of 18 meters. Under the joint venture some pre-built components, including engines, hydraulics systems, dredge pumps, and dredge equipment, were shipped from the Netherlands. While the hull and vessels structure were fabricated under supervision of Vosta LMG site team in the Karnafuly Shipyard with engineering designs provided by Vosta LMG.

The dredge hull is not self-propelled. However it does carry a number of powerful diesel engines. The dredge pump on each vessel is powered by a Cummins QSK60-M HPI producing 1864 kW (2500 HP) at 1900 RPM. A Cummins KTA50-D(M1) producing 1007 kW (1367 BHP) at 1500 RPM powers the vessels' hydraulic systems. Auxiliary power for each dredge is provided by a Cummins 6B-CP80-DM-powered 100 kVA/80wEe @ 50 Hz generator.
The dredges, with air draft of only seven meters to assure passage under bridges, are fitted with Vosta LMG spud carriers as well as swivel bend and anchor booms. Suitable discharge piping for spoils was included in each production package.

The successful delivery of these complex dredgers proves the efficiency of the joint venture that shares imported engineering expertise with local building skills. Bangladesh, with its huge maze of shallow water ports with river and marine passageways stands to benefit as a result.