Eastern Shipbuilding Group Launches Ava M. McAllister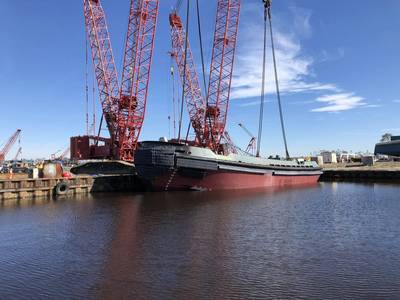 Florida-based shipbuilder Eastern Shipbuilding Group announced the launch of the Escort/Rescue ZDrive Tug Ava M. McAllister for McAllister Towing & Transportation Company, Inc. on December 7, 2018, 58 days after Hurricane Michael devastated the Florida Panhandle.
The family held shipbuilding company said in a press note that this Escort/Rescue Z-Drive Tug design provided by Jensen Maritime Consultants is currently under construction at Eastern's Allanton facility.
The vessel arrived at Eastern earlier this year and is scheduled to deliver the 2nd quarter of 2019, it said.
Present at the launch was the Owners' onsite representative, Jamie Thibodeaux of McAllister Towing with Eastern's project manager Patrick D'Isernia.
The Ava M. McAllister is from the same 100' Z-drive tug design provided by Jensen Maritime Consultants of Seattle, WA as the Rosemary McAllister and the upcoming Capt. Jim McAllister, tugs constructed at Eastern.
McAllister Towing is one of the oldest and largest family-owned marine towing and transportation companies in the United States.