Global Coastal Eco-cities Challenge Tackled by LRF Scholars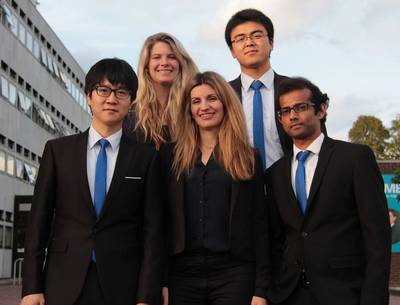 An intensive research exercise supported by the Lloyd's Register Foundation (LRF) Research Collegium, lasting for 8 weeks put 24 scholars from around the world firmly in position to help solve humankind's biggest global challenges – this year's focus was coastal eco-cities.

The brought together 24 postgraduates representing 22 countries to Southampton University to develop imaginative solutions to the problems faced as the world's population concentrates more and more near the coast. The countries represented were Argentina, Australia, Brazil, Canada, Chile, China, Colombia, Egypt, Greece, India, Iran, Italy, Japan, Korea, Netherlands, Nigeria, Poland, Singapore, Spain, Turkey, UK and USA.

"The high concentration of people in coastal regions has produced many economic benefits, including improved transportation links, industrial and urban development, revenue from tourism, and food production," said Michael Franklin, LRF Grants Director. "But the effects of booming population combined with those of probable sea level rises owing to climate change are threatening the ecosystems that provide these economic benefits, indeed the very survival of many communities. Today, approximately 3 billion people live within 200 kilometres of a coast and by 2025, that figure is likely to double and that is why we wanted this year's Collegium to tackle this major issue."

Working to very tight deadlines, each group prepared a major technical paper suitable for publication in a peer-reviewed journal in which they interpreted what coastal eco-cities mean to them before sharing their problem-solving ideas. The Collegium closed with the presentation of all five papers to an audience of academics, industrialists, young engineers and students in Southampton on 10 September 2013. All of the papers are published by the University and shared with colleagues and contacts of the Lloyd's Register Foundation, the participating universities and others with a commercial and academic interest in coastal eco-cities.

The Collegium, now in its third year, welcomes scholars from a wide range of academic disciplines to work in small, mixed discipline groups through a structured programme that included lecturers drawn from academic research institutes and industry partners. The programme focuses on boosting the scholars' knowledge of new and emerging technology and engineering systems, regulatory and commercial issues and design challenges.

Pictured from left to right - Min-Guk Seo, Seoul National University, Korea; Vaso Kapnopoulou, National Technical University Athens, Greece; Dr Prasanth Divakaram, University of Melbourne, Australia; Erin McMurtry, University of Southampton, UK; Liwei Yu, Shanghai Jiao Tong University, China.