SCHOTTEL Debuts New EcoPeller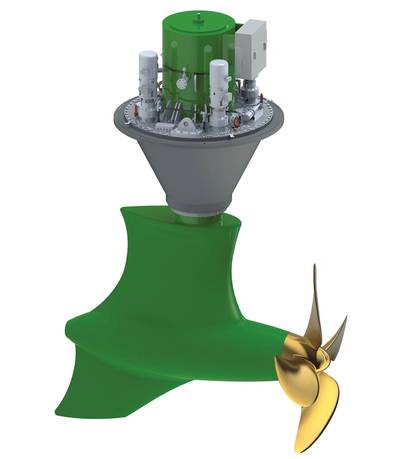 SCHOTTEL, a manufacturer of propulsion and steering systems for ships and offshore applications, has launched a new thruster optimized for open sea and coastal operating conditions: the SCHOTTEL EcoPeller.
SCHOTTEL said the new thruster combines quality and technology with hydrodynamic insights from CFD simulations and model tests to offer a top value for the overall efficiency and course keeping stability of the ship, thus enabling owners to achieve lower fuel consumption, operating costs and emissions.
The SRE is based on the SCHOTTEL SCD design principle: a vertical electric motor integrated into the Rudderpropeller. This eliminates the upper of the two angle gears as well as any necessary shaft lines. On board, the EcoPeller offers low vibration and low noise levels.
Besides a plant-side, ready-for-installation assembly with an electric motor from SCHOTTEL, the EcoPeller will be available with an option for additional electric motors according to customer needs.
The EcoPeller will be available in mid-2016 in a variety of sizes for power ratings between 1,000 kW and approx. 5,000 kW, each as FP and CP variants.