Crowley Recognized for its EcoStewardship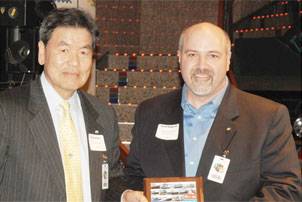 Crowley Maritime Corporation was recently recognized for its environmental stewardship by the Port of the Seattle and Seattle Propeller Club, which teamed to present the company with its runner up award for Marine Environmental Business of the Year. The awards ceremony took place at the 59th Annual Maritime Festival Luncheon aboard the cruise ship Carnival Spirit in Seattle. The event, attended by more than 500 people from the regional maritime industry, marked the culmination of Seattle's annual Maritime Festival.

It was also an opportunity for the Port of Seattle and the Seattle Propeller Club to highlight the Pacific Northwest maritime industry's environmental leadership, outstanding environmental initiatives and support in making Pacific Northwest ports The Green Gateway.

Of the nine companies to be nominated for the Marine Environmental Business of the Year award, Holland America took home the top prize and Crowley finished as the runner up. Scott Hoggarth, Crowley general manager, ship assist and escort services, accepted the award on behalf of the company from Port of Seattle CEO Tay Yoshitani.

Crowley's long history of environmental protection and stewardship includes the publication of a Crowley Safety in Towing Handbook in 1970, approximately 20 years before the Oil Pollution Act of 1990, which contains operational procedures to prevent spills that many years later became law.

The company's early interest in keeping harbors and oceans clean has developed into a strong company culture of EcoStewardship. Recent examples of the company's environmental work include: certification to the international standard ISO 14001 Environmental Management System; certification of all eight of the Articulated Tug Barge (ATB) 650 Series barges by Lloyds Register Group under its Green Passport program, and the repowering of the company's Southern California harbor tugs to meet Tier II emission standards three years ahead of government requirements. Crowley has also received special recognition by several environmentally focused organizations including the Chamber of Shipping of America's Jones F. Devlin Awards for Safety,the U.S. Coast Guard's William Benkert award for environmental excellence, the Washington Department of Ecology's Exceptional Compliance Program (ECOPRO) Award, and the Pacific States/British Columbia Oil Spill Task Force's Legacy Award.