INEC 2012 Held in Edinburgh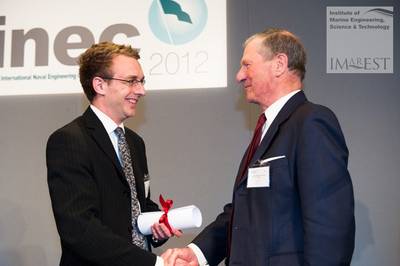 The 11th International Naval Engineering Conference (INEC 2012) was held last month by the Institute of Marine Engineering, Science and Technology (IMarEST) in Edinburgh, the city, the First Sea Lord and Chief of Naval Staff, Ministry of Defence described as "the home of the engineer" in his opening keynote address.
INEC 2012 was attended by delegates from 17 countries, representing ten navies and civilian supporting organisations of all sizes, saw a 30% increase in the number of European countries participating, and once again featured the Sir Donald Gosling Award for authors under the age of 35. "Many of you will be familiar with entering Farnborough train station near London, where it says on the platform "Welcome to Farnborough – The home of innovation", said Admiral Sir Mark Stanhope GCB OBE ADC. "Well, I'm delighted that we are here in Edinburgh for this Conference, for the Forth Rail Bridge, the inventor of the telephone, and now the Aircraft Carriers in build nearby, very much make this "the home of the engineer".

"Admiral Sir Mark provided our delegates with a sense of what he believed our shared future security environment will look like, and some of the shared implications. Naturally too he focussed on engineering for what he described as 'the approaching dawn of the maritime era'," explains Cdre John Newell MBE RN, Ministry of Defence, UK and INEC 2012 Chairman.

Dawn of a Maritime Era
Amidst a climate of uncertainty Admiral Sir Mark said: "There is, I believe, one thing about which we can be certain – the approaching dawn of a maritime era. Why do I say that? Why do I believe that we are entering an era of re-emerging maritime importance? The first reason is economic. Our sea, our global commons, is a cradle for resources. It fuels us and it feeds us. Furthermore, our sea is the oil that lubricates the global economic engine. Over a third of global GDP is currently moved by sea, and rising by 2.5% every year. The other reason why I believe maritime will become increasingly important in the years ahead, is because the largely ungoverned space of our global commons is a security issue itself. Ungoverned space which, if unchecked, will become a vector for global security threats like piracy, international maritime terrorism, human trafficking, and potential conflicts over energy security and resource depletion."

As Cdre John Newell explains, "Admiral Sir Mark went on to talk about the role of navies, outcomes of countries' Defence Reviews, and two particular implications for navies – first that navies will need to be deployed and secondly that collective defence will need to be at an entirely different level of collaboration. Having explored both these areas more fully, he then looked at the implications for the international naval engineering community.

"Certainly, your engineering judgement will continue to be tested as you strive to find the right balance between for example: high-tech and high maintenance; between being safe to ourselves and lethal to our enemies; and between the short term need and the long term desire," said Admiral Sir Mark Stanhope. And then cited two implications of which he said "in my view, will characterise your work most in the years ahead. The two that represent, arguably, the greatest challenge……"The first," explains Cdre John Newell "was concerned with adaptability to change; and the second value for money. Then, in a rousing finish that made a great start to our opening morning Admiral Sir Mark said: "So the challenge is this. As efficiency and effectiveness become ever more finely balanced, so we need to ensure that we don't find ourselves in a position where increasing efficiency, decreases effectiveness. Here again, I believe science, technological innovation and engineering skill can all contribute significantly in the solution space. I think the uncertain nature of our future security environment means that the naval engineering community needs to understand the nuance of that environment more fully."
"Because in a world of such complexity, no single organisation has all the answers. And, because, in a world of such unpredictability, there is no single owner of the crystal ball. It's beholden upon us all to recognise that we have a shared responsibility to understand our future security environment. So that, ultimately, by making better sense of it we shall design platforms that help navies better shape it.

Finally, despite the current global economic climate of constraint, we must ensure that – as we sweep our sights across the horizon of future security – we retain the ability to think with imagination and ambition. For it is ambition that fuels change, fuels progress and – in the business of defence – fuels military advantage."

In addition to the opening morning keynote address by Admiral Sir Mark Stanhope GCB OBE ADC, another was given Commander Patrick L Bennett, US Navy, NAVSEA Technical Liaison Officer, Naval Sea Systems Command Detachment Bristol who spoke about what marine engineers are doing in the United States for the US Navy in support of the Chief of Naval Operations, Admiral Jonathan Greenert's, vision and tasking; and then conference sessions covered ship design, propulsion, survivability, system selection, environment and safety, submarines, design, and civil/military transfer, sustainability, unmanned operations, and affordability.

Sir Donald Gosling Award
One of the highlights of INEC in recent years, has been the Sir Donald Gosling Award to authors aged 35 or under at the time of the conference. The award comprises three prizes (first prize £5,000; second prize £2,500; and third prize £1,500) and certificates. This year the prizes were awarded once again by Vice Admiral Sir Robert Hill KBE, FREng, Hon FIMarEST.
James Horton was the winner of the first prize for his presentation 'An assessment of the Type 23 cathodic protection system to improve performance and operation'. A consultant with Frazer-Nash Consultancy, James has undertaken numerous corrosion assessments on a range of platforms covering new build and retrofit. His expertise has been applied to the naval, offshore renewables and oil and gas industries, providing advice and detailed assessments to manufacturers, operators and CP system suppliers. The second prize was won by Charles Humphreys who works for BAE Systems Naval Ships at Portsmouth Naval base. His presentation was on 'Enabling naval vessel energy optimisation'. He graduated from Newcastle University in 2010 with a first class Masters Degree in Naval Architecture. Prior to this he worked for DML and then Babcock Marine at Devonport Royal Dockyard as an undergraduate trainee, a position he took up after leaving school in 2005. His primary interests are in optimising ship design for production and through life operation.
The third and final winner was Ian Randles of the Ministry of Defence for his presentation 'Designing for the future: The Type 26 Global Combat Ship mission bay'. Ian works on the Naval Architecture Approvals Authority for the T26 GCS project, a position he has held since 2010. Prior to joining T26 GCS he studied for a Naval Architecture Masters Degree at UCL, during which time he completed a dissertation on the effect of ship layout on survivability and published a paper on a twin-variant ship concept for the Future Surface Combatant project. As part of the DESG graduate scheme, Ian undertook placements at CVF, Capital Ships, MCTA and QinetiQ's hydrodynamic department. He has an MEng in Aerospace Engineering from the University of Bath.

"We are grateful to Sir Donald for his continuing sponsorship of these important awards," says David Loosley, Chief Executive of IMarEST. "It is essential to encourage young men and women to submit papers for presentation at INEC, it provides them with a great confidence boost to present their findings to such an important audience drawn from around the world." INEC 2012 was sponsored by Babcock, BMT Defence Services Ltd, GE Energy – Power Conversion, Rolls-Royce plc and ONR Global. BMT Defence Services and Rolls-Royce are both IMarEST Marine Partners; and it was supported by Society for Underwater Technology, ADS, Aircraft Carrier Alliance, Society of Naval Architects and Marine Engineers, and UK NEST.