RI Official Sailing Education Ship Dedicated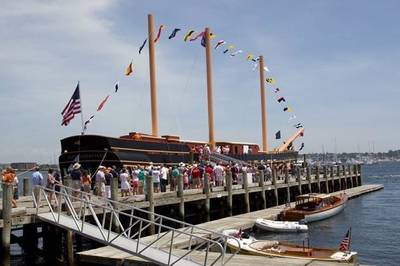 The 'SSV Oliver Hazard Perry' was dedicated as Rhode Island's Official Sailing Education Vessel at a recent dockside ceremony at Fort Adams State Park. Rhode Island.
Lt. Governor Elizabeth Roberts was among a half dozen local, state and Navy dignitaries to speak to an audience of approximately 600 supporters and had the distinguished honor of reading the official declaration proclamation on behalf of Governor Lincoln Chafee.

"In 2012, the legislature designated this ship as the state's official Sailing Education Vessel, authorizing the ship to fly the state flag at sea and in port and to act as the state's ambassador as she sails the world's waters," read Roberts. "With my power and with these words, I dedicate the Oliver Hazard Perry as Rhode Island's official Sailing Education Vessel and wish her fair winds and smooth seas as she spreads the wisdom of our forefathers and modern scholars to all who visit and study aboard her."

At the end of her speech, Roberts ordered the ship's commander, Captain Richard Bailey, to "set the first watch," which was represented by the hoisting of the American flag at the ship's stern, followed by a gun salute from the Artillery Company of Newport and the manning of the rails by nine Navy sea cadets. (The Northeast Navy Band also was present at the event.)

Although the ship was clearly unfinished (her masts will be three times as tall as what was seen and her bowsprit half as long again, plus her engines, generators and more are still to come in the final outfitting), the topsides were freshly painted and a Great Cabin finished out as the "showpiece" for the work in progress.
Over the remainder of the Fourth of July weekend, nearly 1000 visitors inspected the SSV Oliver Hazard Perry before the ship returned to Senesco Marine in Quonset, R.I., to continue construction. When it is launched in 2014, The 196' three-masted, square-rigged tall ship SSV Oliver Hazard Perry will be the largest civilian training vessel in North America and the first ocean-going, full-rigged ship built in the United States in more than 100 years.