Coral Reef Research – New Program for Educators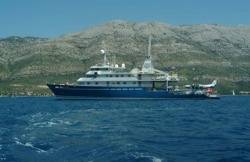 Khaled bin Sultan Living Oceans Foundation initiate program for educators to join expeditions aboard 'MY Golden Shadow'
Tempe Arizona based high-school teacher Mike Trimble became the first CREW (Coral Reef Educator on the Water) member of the Khaled bin Sultan Living Oceans Foundation Global Reef Expedition. From March 25th-30th he joined the Foundation's research ship the M/Y Golden Shadow and a team of international scientists as they conducted coral reef research round Navassa Island in the Caribbean.
The launch of the CREW project is a milestone in the Foundation's education program and future CREW members will participate in upcoming research missions. CREW is designed to give teachers intimate experience of coral reef research and inspiration to convey their knowledge to their students and members of their community.
Mike Trimble stated, "Being aboard the Golden Shadow and working alongside the Living Oceans Foundation team was the fulfillment of a boyhood dream. This experience allowed me to be a first-hand participant and share it electronically with my students as together we discovered the plight of coral reefs and the positive steps in research and education that the Living Oceans Foundation is now undertaking through the Global Reef Expedition."
The Foundation spent 5 days collecting data on the reefs round Navassa Island. They completed SCUBA surveys of the coral reef habitat, fish, and benthic communities in addition to socioeconomic work with Haitian fishermen who fish on Navassa's reefs. The research was carried out in conjunction with team members from the National Oceanic and Atmospheric Administration and the United States Fish and Wildlife Service.
The Foundation is currently involved in research off the coast of Colombia and will proceed through the Panama Canal to work in the Pacific Ocean for the remainder of the year.