Markey Fills Out Electric Towing Winch Line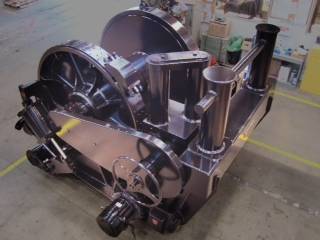 As the new year begins, Markey Machinery is preparing a new TES-40-75HP electric towing winch for shipment that will be installed on Harley Marine Services new Z-drive ship assist tractor tug "M/V Robert Franco".

The first item of two suites of deck machinery specified by Harley for both the "M/V Robert Franco" and its' sister, the "M/V Ahbra Franco", the TES-40-75HP towing winch also fills out Markey's electric towing winch line which now covers wire sizes between 1-1/4" through 2-1/2". The TES-40-75HP is a rugged single-drum electric towing winch with fairlead and warping head, designed specifically for use on ASD-tugs where aft deck space is at a premium. Its AC Variable Frequency electric drive satisfies a wide range of performance requirements. All electrical components comply with ABS, USCG, and IEEE-45 standards.

The tow winch is part of a two-winch suite of equipment that also includes a Markey Model DEPCF-52- 75HP Class II Hawser Winch. Together, the two winches will share a single VFD drive panel and dynamic braking resistors, while having discrete wheelhouse controls for each winch. This reduces the impact of "below-deck" equipment on available space, as well as system cost while supporting full functionality of either winch.

The balance of the two shipsets is scheduled to ship in the near future. Both tugs are being built by Nichols Brothers Boat Builders of Freeland, Washington, with expected launch dates in the spring and summer of 2013. The tugs will enter service on the U.S. West Coast and will enhance Harley Marine's current fleet of tractor tugs operating in the Tanker Escort and Ship Assist markets.