Rapp Electric Winches for New O'Hara Vessel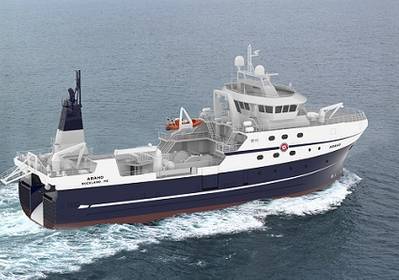 Rapp Hydema landed a contract for theoutfitting of the new trawler F/V Araho, a 185-ft. freezer-trawler being built for O'Hara Corporation at Eastern Shipbuilding in Pensacola, Fla. The owners had originally planned to retrofit the F/V Harvester Enterprise but instead opted for an outright newbuild. The new trawler build has potential to mark the first of several new trawler builds to replace aging hulls throughout the Alaskan trawl fleet.

The Rapp package includes a pair of TWS-22051RE electric trawl winches. Each achieves 45 metric tons line pull, at 45 meters per-minute line speed, at top layer and speed step one (the winches feature two-speed capability). Each accommodates 2,830 meters of 32mm wire rope. Powering both these workhorse winches are Rapp's gearboxes. Three of Rapp's patented liquid-cooled motors are mounted on each gearbox; a product that has won an innovative technology award at the Houston Offshore Technology Conference in recent years.

The Rapp package also includes two electric GW-4000BE Gilson winches, which attain 32.2 metric tons line pull, at 30 meters per minute line speed. Three electric Rapp net drums were also included, with line pulls and speeds corresponding to the Gilson capability. Three GW-2300BE Codend/Outhaul winches were also ordered, these lifting 12 metric tons at 32 meters per minute line speed. Rounding out the deck machinery is a single SOW-502E/S6 Net-Sounding Winch, with a line pull of 3.5 metric tons at 80 meters per minute. Rapp is also providing two anchor winches and a hydraulic capstan. Rapp's render-recover winch management system, the PTS (Programmable Trawl System) Pentagon Fisheries system, will provide local and remote winch control, including a variety of automated functions and read-outs on the bridge. The Rapp winches' Drive System is based upon VFDs (variable-frequency drives) and a DC link system.