MacLean Electrical Group's Celebrates Shell Contract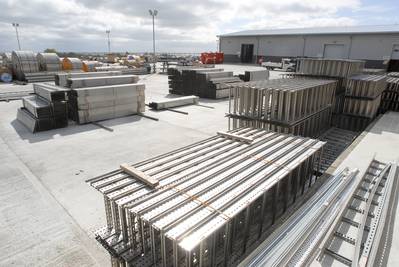 MacLean Electrical Group's Aberdeen business, which services the UK offshore operators and their contractors with electrical products and cables, has secured a new multi-million pound long-term supply agreement with Shell U.K.


The MacLean Group has a long history of supplying Shell UK, and the contract is for five years with a further two-year option. The MacLean Group will provide Shell's UK business with a wide range of electrical product including those for hazardous areas and harsh environments, to fulfil all the maintenance, repair and operational requirements for their offshore and onshore exploration and process facilities in the UK.

The Shell contract rounds off a very successful year for the group's Aberdeen business, which has continued to surpass growth expectations with awards of several major supply agreements and extensions to existing agreements with an estimated total value in excess of £80,000,000. During November a very significant agreement award was made to the Group by a large U.K. based chemical company covering a similar range of products to those outlined above.

The company has been the leading UK oil & gas industry Maintenance, Repair and Operations supplier of electrical products and cables for several years due to its investment in people, systems and facilities, with strong support from its community of manufacturers.

The Altens-based facility, which includes warehouses, hazardous area licensed workshop facilities and the latest IT systems and E-trading capability, has benefitted from a multi-million pound investment in inventory this year and a further £5,000,000 investment is planned in 2013 to accommodate anticipated growth.
The workforce in Aberdeen has increased in 2012 by 15%, and the business unit anticipates recruiting further additional personnel in the year ahead.

Group Managing Director Donnie MacLean said: "We are delighted with the success of our Aberdeen business which is down to the hard work, dedication and loyalty of our team.

"Our experienced staff, continuing investment in inventory, systems and facilities and excellent manufacturer support has ensured we remain at the forefront of our markets.

"Our clients demand a supply chain partner with knowledge and experience, where service and integrity is in-built, enabling them to minimise costs and cut supplier management time. They want attention to detail, product availability, timely provision of critical documentation and a robust and secure partner that has a clear focus on their business needs. Our team in Aberdeen provides all that and more."

The success of the Aberdeen business reflects a healthy year overall for the Dingwall-headquartered MacLean Electrical Group.

In addition to success in the U.K., the group has seen major awards recently for several global new-build projects, from LNG plants in Australia to projects offshore and onshore USA and Europe, further enhancing its international standing and ability to work on the world's most high profile projects.

After considerable investment over the last two years in new facilities for the group's Australian business and U.K. External Lighting Hub in Cumbernauld, plans are now being made for further investment to accommodate growth in the Australian market.

Earlier this year the group, through its wholly owned Australian business JT Day Pty Ltd, announced it had secured two frame agreement awards to provide cables, cable glands and electrical bulk materials for the Wheatstone LNG Project, one of Australia's largest resource projects involving the construction of two liquefied natural gas (LNG) trains and a domestic gas plant. It has also worked on several other LNG contracts in Australia.