New Electronically Steerable Satcom Antenna by IMST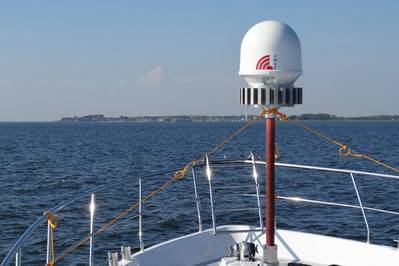 IMST introduce a friction-free high-speed electronic substitute antenna for maritime platforms.

Gernamy's IMST say they have successfully completed the final trails of an electronically steerable satellite communication antenna terminal for maritime applications. The comprehensive tests were conducted on board a yacht on Lake 'ijsselmeer' in the Netherlands.

The outstanding performance of the new terminal was demonstrated by establishing a live video feed from the yacht via satellite to the head office of IMST in Germany. The quality of the connection during all modes of operation was found to be excellent, even during various high-speed manoeuvres by the yacht.

The high-tech terminal is designed for satellite services in L-band such as Thuraya or BGAN Inmarsat. The electronically beam pointing capability of the terminal is superior to conventional mechanical systems in terms of tracking speed, maintenance and life span. For the moment, first preparations are on their way for A-series development and consequent market introduction.

The development of the prototype was funded by the DLR Raumfahrtmanagement (BMWi) under a research contract.