Cruise Ship Companies Choose SAM Electronics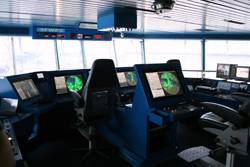 Worldwide sales of SAM Electronics and L-3 Valmarine's latest NACOS Platinum series of integrated navigation and automation systems now exceed 130 following commissioning of configurations for Carnival Cruise Lines' new 130,000-gt liner, Carnival Breeze, under construction by Fincantieri, and two 143,500-gt cruiseships being built at Meyer Werft's Papenburg yard for NCL. Due for delivery in 2013 and 2014, the NCL vessels will be the largest to be built in Germany.

The third in Carnival's Dream class and due for delivery next spring, the 306-meter Carnival Breeze is likewise the largest ship to be built at Fincantieri's Monfalcone yard. Both orders follow recent retrofitting by Lyngsø Marine, the associate SAM company, of NACOS Platinum systems aboard three Star Cruises' vessels, Star Pisces, SuperStar Aquarius and Superstar Libra; the new systems replace earlier NACOS IBS assemblies.

Meanwhile, Hamburg-based SAM Electronics says that AIS target merging will be available as part of NACOS Platinum systems later this year, as will a new Tablet PC conning unit. Both developments are the outcome of the recently-completed EU part-funded Flagship project for which SAM headed its Bridge Support program. It involved integrating NAVTEX messages, radar and AIS targets into a single coherent display for quicker hazard analysis and improved tracking while reducing duty officer workloads.