Larson Electronics' Magnalight Announces New Handheld LED Spotlight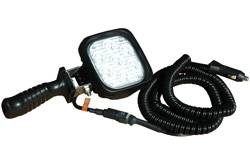 Larson Electronics' Magnalight.com announced today the addition of the HL-7LED-3C Handheld LED Control to its line of LED spotlights.
This handheld LED spotlight light with an ergonomically designed solid plastic handle produces 1,596 lumens and uses specially designed LED reflectors to produce a light beam 650' long by 50' wide. Drawing only 24 watts of power @1.7 amps, this LED spotlight provides a highly effective alternative to traditional incandescent handheld spotlights that drain batteries at a rapid rate.
The Magnalight HL-7LED-3C Handheld LED Control Light uses seven of the latest CREE EZBright® three watt LEDs to produce 1,596 lumens of effective and well focused light. Designed to operate on a variety of voltages ranging from Capable 9 to 48 Volts DC simply by connecting the unit to a suitable power source, this industrial grade spotlight is equipped with a solid composite plastic handle with ergonomic design for easy handling and a sure grip. Connection to power sources includes a variety of optional cords including 16 and 25 foot straight cords with cigarette plugs, a 21 foot cord with battery clamps, and a 16 foot straight cord ending in battery ring terminals or a cigarette plug. A single heavy duty tension hinge connects the lamp to the handle, and the lamp housing is constructed of heavy extruded aluminum for serious durability. The LED and reflector assembly is protected by an unbreakable shatterproof polycarbonate lens and produces a tightly focused light beam reaching over 600 feet in length. Unlike other LED spotlights, the LED and reflector assembly on this unit produces a very tightly focused light beam with little of the spread or wide angle fade of other similar units. The LEDs in this unit are rated at 50,000 hours of life expectancy and run cool enough to touch during operation, removing the possibility of the accidental burns associated with incandescent lamps. This LED spotlight is IP68 rated waterproof and dustproof and will withstand full submersion in water up to 3 meters, making it well suited for marine applications. The high output, low power requirements, and extreme durability and versatility of this LED spotlight makes it ideal for security, law enforcement, hunting, and cable/power/utility work applications where operators need an effective and well focused light source than can run for extended periods without draining a vehicles batteries.
"The HL-7LED-3C is very a tough, durable LED light with a focused spot beam," said Rob Bresnahan. "This LED light with a cast aluminum head and watertight construction can be used for inspection in and around boats, vehicles and heavy equipment. You can drop this LED light into 3 feet of water, pick it up and get back to work. Plus, this handheld LED light is cool to the touch and can run 24/7 for 5.5 years straight without needing a bulb change. We really see this as a lifetime 12/24 volt LED work light that is completely maintenance free."
Magnalight by Larson Electronics carries a wide array of LED spotlights, Law Enforcement spotlights, LED light bars, 12/24 Volt LED lights, and industrial grade work lights, and offers a comprehensive selection of the latest in industrial/commercial lighting technology. View Larson Electronics' full line of LEDs and infrared LED lights by visiting Magnalight.com. Contact Magnalight by calling 1-800-369-6671 or 1-214-616-6180 for international inquiries.