Theresa May hails HMS Queen Elizabeth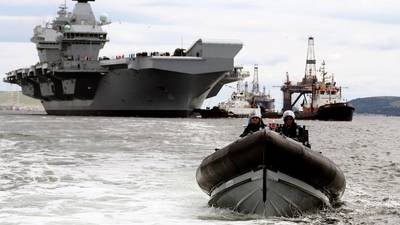 The Royal Navy's new flagship HMS Queen Elizabeth berthed in her home port of Portsmouth early on Wednesday morning and was greeted Prime Minister Theresa May visited the aircraft carrier and hailed it as a symbol of the UK's maritime might, said a press release from UK Chamber of Shipping.
"Britain truly has the best sailors, marines and officers in the world and I believe that you deserve the very best equipment. That is what we have with HMS Queen Elizabeth. This ship is a symbol of the United Kingdom as a great global, maritime nation," the prime minister said in an address.
"Clearly, she is a stunning piece of twenty-first-century engineering and a true testament to British shipbuilding and design. Six shipyards from across the United Kingdom contributed sections of this vessel. In Glasgow, Devon, Tyneside, Merseyside, Portsmouth and Fife, the skill of British shipbuilders were on display in her construction," she continued.
"Over 10,000 people, including 800 apprenticeships, 700 businesses helped build the mighty ship we see today," said Prime Minister May. "We are determined to build on the success of the Queen Elizabeth-class carriers with a National Shipbuilding Strategy to open up new opportunities for our great British shipyards in the future."
Astute-class submarines, Type 26 frigates and Tide-class tankers are either under construction or entering service for the Royal Navy and will join the Type 45 destroyers that are already in operation.
"We will bring them together to form a Carrier Strike Group - a powerful strategic conventional deterrent - ready to fight and in the most demanding circumstances, but also providing a reassuring and highly visible UK presence on the global stage," the UK's First Sea Lord, Sir Phillip Jones, said today in a speech.
Guy Platten, the UK Chamber's CEO, was also in Portsmouth to welcome the new carrier. "HMS Queen
Elizabeth proves
that the UK's maritime future can be as proud and strong as its maritime past," he said of the arrival.
The
Carrier Strike Group will
also play an important role in protecting the world's merchant fleet and supply of food and energy, as Guy highlighted in an article published in July.
The 280-metre-long HMS Queen Elizabeth is the largest ever built for the Royal Navy and was welcomed into Portsmouth with a flypast from the Fleet Air Arm, including Wildcat and Merlin helicopters and Hawk jets.
The ship berthed at the newly-named and upgraded Princess Royal Jetty at Her Majesty's Naval Base Portsmouth, which will be home to both of the Royal Navy's new aircraft carriers. The second, HMS Prince of Wales, will be officially named in a ceremony at Rosyth next month.
The berth has been upgraded and strengthened to support the carriers as part of a £100 million raft of infrastructure upgrades, which took place ahead of HMS Queen Elizabeth's arrival.
"She has made good progress in sea trials and will now embark on the next phase of preparations that will see the return of Britain's carrier strike ability," Secretary of State for Defence, Sir Michael Fallon, said of the new aircraft carrier.
"When she enters service she will help keep Britain safe at a time of increased threats, able to fill multiple roles from providing air power anywhere at any time to fight future campaigns, supporting allies or delivering humanitarian aid," the secretary said.