Ellicot Dredges 2008 Annual Report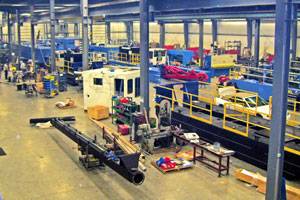 In 2008 Ellicott Dredge Enterprises and its product units Ellicott Dredges, Mud Cat, IMS dredges, and Liquid Waste Technology (LWT) sold close to 100 dredges in over 20 countries. The company introduced new dredge products with more underway. The company's new plant in Wisconsin near Minneapolis is in full production.

During the last quarter Ellicott Dredge Enterprises' units received the following noteworthy orders:
Egypt: Sale via a Bechtel affiliate of two LWT remote-controlled dredges to maintain power plant intake cooling water access channels at two power plants, Nubaria and El Tebbin. The Nubaria sale is itself a follow-on order.

Russia: Sale of IMS 7012 and 5012 Versi-Dredges (with patented Starwheel self-propulsion system) for sand mining and environmental lake restoration.

Canada: Sale of new custom dual-wheel Ellicott B590 dredge for potash mining for Mosaic, one of the world's largest fertilizer companies with a market capitalization of over $10b. This will be the third Ellicott dredge for Mosaic taking the place of a 23-year old dredge which is still operating. Mosaic is an affiliate of Cargill, one of the largest privately owned US-based companies.
• Dredge will be one-piece 316 stainless steel hull with 16' (14.9 m) x 40' (12 m) footprint
• Electrically powered by two motors, approximately 500 hp (373 kw) total installed
• Ellicott 60" Dual Wheel Excavator with 100 hp (75 kw) cutting force
• Dredge will swing off of a forward mounted stern winch, viewable from operator's cab
• Dredge will be suitable to work in low temperature extreme of -40ºF/C and in highly acidic environment of potash brine

Mexico: Sale of 10-inch (254 mm) Model 460SL swinging ladder dredge to a contractor for narrow canal dredging for an oil company.
• Powered by a Cat C18 Tier 3 engine, 479 hp (357 kw)
• 20' (6 m) maximum dredging depth
• Two forward spuds and one stern spud. Power up/power down spud hoisting system
• Spud carriage system with 5' (1.5 m) stroke
• PLC control system including automatic dredge advance/retreat operation

Colombia: Sale of an Ellicott Series 1170 "Dragon" dredge to Cormagdalena for river navigation and land reclamation purposes. Ellicott won the order through an international tender process.

USA: Sale of a new standard model 10-inch swinging ladder dredge (Swinging-Dragon model
460SL) to a municipality in Long Island in New York State for use in coastal protection, and small harbor maintenance

Canada: Sale of an Ellicott Series 1170 "Dragon" dredge to a contractor for the tar sands mining company Suncor for use in managing product residue ponds.

USA: As previously noted, earlier in 2008 Ellicott delivered a custom-designed 1100HP 14" Coastal-Dragon to Hillsboro, Florida, for beach restoration and harbor maintenance. The dredge features extra free-board for sturdiness in open water conditions.

New Products:
With three different models of Swinging-Dragon swinging ladder dredges -- an 8" Model 300SL, a 10" Model 460SL, and custom designs -- all newly designed in 2008, Ellicott is now the world leader in this category. The 460SL can operate both in swinging ladder mode and conventional stern swing for wider cuts. In 2009, LWT will be introducing new Mud Cat™ auger dredge products, with more information to be released later this year. In Q1 of 2009, Ellicott will deliver its first diesel-powered Jet Dragon™ for deep digging (up to 50 ft/ 16m) applications, especially sand and gravel mining. The first client is a US-based mining company. Ellicott will be building these for stock for short term delivery. Ellicott previously delivered an electric version of the Jet Dragon to Hanson which has operated with great success in a New Jersey pit.

New Manufacturing Investment:
In addition to its new plant in Wisconsin, Ellicott has just invested over $1m in a new horizontal machining center in its Baltimore factory. The new state-of-the-art machining center, showing Ellicott's commitment to modern manufacturing technology and processes, enables Ellicott to process multiple parts at the same time. Its fixturing is designed to be loaded and discharged off the machine and then shuttled into place quickly with a minimum negative impact on time spent producing parts at the tool tip improving machine efficiency and resulting in a reduction in non-chip producing tasks. It has the added benefit of allowing multiple customers for dredge spare parts to be served simultaneously to a greater degree than in the past, and with in-house control, Ellicott can control delivery dates better. In 2009, Ellicott will install new 20-ton crane capacity throughout its new Baltimore space (opened 2008) for more efficient component assembly. Ellicott assembles large pumps, gear boxes, and cutter drives for dredgers up to 4000 HP (3000 kw) such as Series 4170 "Super Dragons™" in this new space.

Awards & Recognition Received in 2008:
The Association of Corporate Growth recognized Ellicott for its creative financing of a project for the Government of Iraq. INC magazine recognized Ellicott as one of the 100 fastest growing U.S. inner-city-based companies. The U.S. Chamber of Commerce featured Ellicott in a video promoting successful U.S. companies creating jobs through exports.

WEDA Chapter Meeting at Ellicott:
Ellicott will host the Midwest USA WEDA Chapter meeting at its LWT Wisconsin plant on April 16, 2009.

Customer Financing:
In 2008 Ellicott and LWT were once again the largest user in the industry of U.S. Eximbank, a government agency which finances overseas buyers of U.S. exports. With exports to so many countries, and an expanding country list at that, Ellicott spends considerable time developing financing alternatives for its clients as desired.

New People/Promotions:
Paul Quinn was recently promoted to VP Sales at Ellicott Dredges. Paul also serves as Vice President of WEDA. Steve Panasuk has joined LWT as Sales Manager. Steve most recently worked for CAT PUMPS in Minneapolis. Ellicott Dredges has hired Robert Croom as Purchasing Manager. Robert has over 20 years of experience purchasing with manufacturing companies.