Emergency Shutdown System Gives Peace of Mind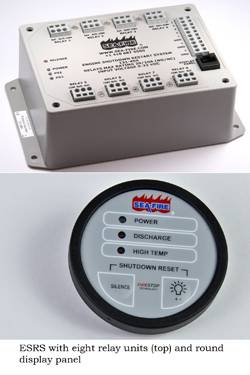 In the event of an engine room fire, once the fire suppression system is engaged it's critical that engines, generators and fans are shut down quickly. This both minimizes damage to equipment and helps contain the extinguishing agent within the compartment it's protecting. The ESRS Engine Shutdown System from Sea-Fire automates this procedure using microprocessor technology, in a simple plug and play design. ABYC requires automatic equipment shutdown if there is more than one air change per minute within the engine compartment. Sea-Fire recommends that all diesel engine applications be protected by an automatic engine shutdown system.

The 131-440 series ESRS features two pressure switch inputs and rugged spring-cage connectors for a tight fit and quick installation. Operating between 9-32 VDC, the ESRS is offered with four(PN131-440), six(PN131-445) or eight(PN131-450) relay units to accommodate up to eight pieces of equipment. Meeting ISO marine 8846 and CE approval standards, it's designed specifically for use with Sea-Fire's FM-200 extinguishing systems. A relay reset timer version also is available. A variety of Sea-Fire rectangular and round display panels enable vessel owners to monitor extinguishing system activity nearly anywhere onboard. The simple plug and play CAT5 cable connections link back to the main ESRS unit. Sea-Fire's basic display panel indicates suppression system activity and equipment shutdown. Owners can also choose from models that incorporate low pressure monitors, or the ability to link in heat sensors for high temperature monitoring.

Suggested retail prices for the Sea-Fire ESRS Engine Shutdown System begin at $314. Display panels start at $135 / www.sea-fire.com