Former IMO Sec-Gen Emeritus Passes Away Aged 93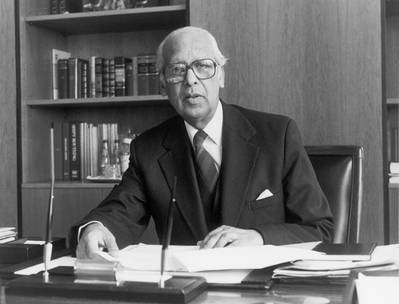 IMO Secretary-General Emeritus Dr. C.P. Srivastava, KCMG, Secretary-General Emeritus of the International Maritme Organization (IMO), has died in Italy, aged 93.
IMO Secretary-General Koji Sekimizu expressed his sincere condolences to the Indian Government and Dr. C.P. Srivastava's remaining family, and also the condolences of the entire IMO membership and staff.

"It is with great sadness that we have learned of the passing of Dr. C.P. Srivastava, the longest-serving Secretary-General of the Organization," Mr. Sekimizu said. "Dr. C.P. Srivastava was a truly great Secretary-General who established the World Maritime University and placed IMO's work on technical co-operation in a central position in the work of the Organization, in order to promote the implementation of IMO conventions on a truly global scale."

Dr. Srivastava's leadership of IMO is associated with the success of the 1978 Tanker Safety and Pollution Prevention (TSPP) Conference, and the development and adoption of the International Convention on Standards of Training, Certification and Watchkeeping for Seafarers (STCW), 1978, the International Convention on Maritime Search and Rescue (SAR), 1979, the Convention for the Suppression of Unlawful Acts Against the Safety of Maritime Navigation (SUA), 1988, and related Protocol for the Suppression of Unlawful Acts Against the Safety of Fixed Platforms located on the Continental Shelf, and many other treaties and Codes.

In 1990, in recognition of his service and contribution to world shipping, Dr. C. P. Srivastava was conferred, by Queen Elizabeth II of the United kingdom, the title of Honorary Knight Commander of the Most Distinguished Order of Saint Michael and Saint George (KCMG).

In 1991, he received the International Maritime prize from IMO for his contribution to the Organization's work and objectives.

In 2005 he was awarded the 2004 Lal bahadur Shastri National Award for Excellence in Public Administration and Management Sciences by the then President of India, A. P. J. Abdul Kalam.

In 2009, he was awarded the Padma Vibhushan, India's second highest civilian award, by the President of India.