Emissions Scrubber Receives Class Approval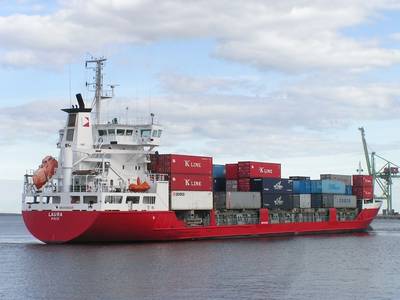 Langh Ship received final class approval from Germanischer Lloyd for its exhaust gas cleaning system on m/s Laura (pictured), a 1996-built a 6,500 DWT general cargo vessel equipped with a 6 MW main engine. Langh Ship is a shipping company that has developed its own closed loop scrubber. The system uses caustic soda to neutralize the SOx in the exhaust gas and cleans the process water so that it can be led to the sea. The residual is collected in such a dry form that the compact waste can be transported to the nearest waste treatment plant.

The scrubber was recently made available also to other shipping companies through DeltaLangh Ltd., a joint venture company owned by Deltamarin Ltd and Oy Langh Tech Ab, which is part of the Langh companies. Deltamarin provides engineering and consulting services for the shipping, shipbuilding, naval, marine and offshore industries worldwide. "DeltaLangh has already begun installing similar exhaust gas cleaning systems on our other four vessels. The installations are expected to be fully operational on January 1, 2015, when the new regulation comes into force," said Commercial Manager Laura Langh-Lagerlöf, who herself has been actively involved in the development process. DeltaLangh was established in June 2014 when Deltamarin Ltd and Oy Langh Ship Ab came together.

(As published in the September 2014 edition of Maritime Reporter & Engineering News - http://magazines.marinelink.com/Magazines/MaritimeReporter)