Unplanned Encounters Discussed at Navy CNO's China Meeting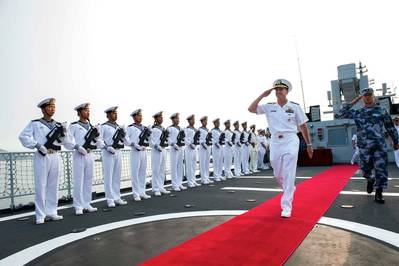 Chief of Naval Operations (CNO) Adm. Jonathan Greenert has left the People's Republic of China (PRC) after a successful four-day counterpart visit with military leaders, fleet units and leaders of the State Oceanic Administration (SOA) says the Chief of Naval Operations Public Affairs Office.

Adm. Wu Shengli, commander in chief of the People's Liberation Army Navy (PLAN), hosted Greenert's visit, which marked the fourth major interaction between Greenert and Wu in the past year and is a clear indication of each country's desire to grow their existing relationship. 


Ensuring the full understanding and implementation of the Code for Unplanned Encounters at Sea (CUES) through the ranks was one of the more challenging proposals by Greenert and Wu as it will take time to integrate CUES into the standard operating procedures for both navies; however, achievable and actually already in the works. 


Directed by both the President and PRC Premier to improve military to military relations both Greenert and Wu have been focusing on identifying tangible measures that can build a better understanding and trust between each other's navies and safeguard maritime peace and stability in the region.


"I'm here at the invitation of Adm. Wu to continue our agenda for improving cooperation of our navies," said Greenert. "We are moving ahead in a series of steps to increase our confidence in each other."

In meetings between the two leaders during the visit several actions were discussed that, if implemented over the course of the next year or two pending approval, will provide the cooperative opportunities mutually sought out by the U.S. Navy and PLAN. 



Creating additional port visits in the U.S. for PLAN ships and additional Chinese port visits for U.S. ships as well as extending more invitations to take part in each other's exercises were two of the actions Greenert and Wu discussed. These initiatives would help advance the relationship portion of the countries' desires to militarily work more closely together.

But the action proposed by Wu and Greenert that will present the greatest hurdle for each Navy to overcome is conducting personnel exchanges – exchanges that if approved will mitigate any doubt as to whether or not trust exists between the two navies and will signify a huge relationship milestone.

Greenert said that although personnel exchanges are on the table, it could take years to implement, but that the previously mentioned actions are a step in the right direction. 



Wu said after the initial meeting with Greenert that a new type of naval relationship had positive significance for the "new type of great power relations" that China and the United States are trying to build.