Sharks Rays & Chimaeras Now on Endangered Species List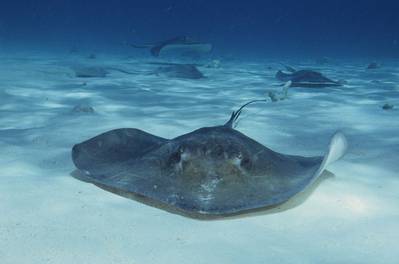 A quarter of the world's sharks, rays and chimaeras (the chondrichthyan fishes) are threatened with extinction according to 'The IUCN Red List of Threatened Species', with ray species found to be at a higher risk than sharks informs the Save Our Seas Fondation.
The findings are part of the first-ever global analysis for these species carried out by the IUCN Shark Specialist Group (SSG) and published in the journal eLife. The analysis is the culmination of 17 years of collaboration between 306 experts from 64 countries around the world who volunteered their time and expertise at numerous workshops and by correspondence during that period to analyze the conservation status of all 1,041 shark, ray and chimaera species. According to 'Save Our Seas' this has never been done before for any complete major marine taxonomic group.
The results paint an ominous picture for the chondrichthyan fishes (sharks, rays, and chimaeras) around the world. Only 23% of these species are considered safe from extinction. This makes them the most threatened group of vertebrate animals. This is particularly alarming considering the huge ecological value of these predators, which play a crucial role in the top-down functioning of marine food webs.

"Sharks, rays, and chimaeras tend to grow slowly and produce few young, which leaves them particularly vulnerable to overfishing," says Sonja Fordham, President of the Washington, DC-based Shark Advocates International, a project sponsored by the Save Our Seas Foundation. "Significant policy strides have been made over the last two decades but effective conservation requires a dramatic acceleration in pace as well as an expansion of scope to include all shapes and sizes of these exceptional species. Our analysis clearly demonstrates that the need for such action is urgent."

The paper also highlights the urgent need for the protection of skates and rays, which has previously been overlooked by conservation groups.

Source: Save Our Seas Foundation