Engine Refit for Mersey Pilot Boat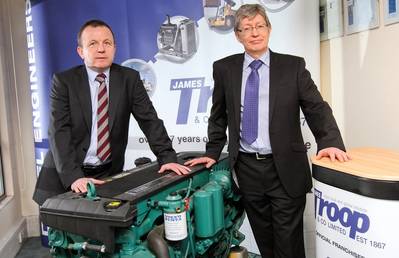 James Troop supplies two new Volvo Penta engines to upgrade Mersey pilot boat
Merseyside-based engine specialist James Troop & Co has secured a deal to supply and install two Volvo Penta D9 engines to extend the service life of one of Liverpool's River Mersey pilot boats.
The firm said it was approached by Peel Ports to replace the engines onboard the Fulmar – one of eight Mersey pilot boats. James Troop immediately sent technical manager Alan Railton and engine sales executive Anthony Ward to work with the customer to perform all the necessary onboard checks, measure up and prepare a recommendation.
Operations director Robert Pollock said James Troop was so confident in the performance and reliability of the two Volvo Penta D9 diesel engines supplied that they have given Peel Ports a five-year warranty.
"We were approached by Peel Ports about the Fulmar contract four months ago on the back of our strong working relationship," he said. "To help extend the Fulmar's service life, a refit was required which included the replacement of the existing engines. The timescale was quite tight so we moved fast to carry out an assessment. We recommended a package including two Volvo Penta D9 engines because they matched the power and performance requirements of the customer. The engines also come equipped with all the latest specifications and
control systems
. As a result of our warranty offer, we will be looking after all the spare parts, technical maintenance and servicing of the engines for at least the next five years."
Pilot boats like the Fulmar pilot vessels in and out of the River Mersey, which includes the Port of Liverpool, the docks at Garston, the locks to the
Manchester Ship canal
and QE II Oil Dock, Bromborough River Wall and the Raynes Stone Jetty on the
North Wales coast
.
Having supplied the engines, James Troop, a Volvo Penta Center in the U.K. will return to Brocklebank Dock in Liverpool, where the Fulmar refit is being completed, to commission the engines.
Robert Pollock said the Fulmar deal provided a perfect example of James Troop's efficiency and customer-focused approach.
"The trickiest aspect of this particular deal was meeting the demanding delivery schedule," he said. "Working with the customer we had to ensure that the engines not only fitted onto the boat, but produced the correct power and ratings required to ensure that they stand the test of time. We invest heavily in staff training, which means our engineers are among the most highly-trained in the industry. The pilot boat deal not only showcases our engineering expertise, but the speed and efficiency with which we work.
"James Troop's dealer network stretches across the North West and North Wales too, which means we can offer prompt parts and servicing when required as part of a genuine 24/7 service – helping to save customers like Peel Ports time and money.
"This deal further highlights our expertise in engine supply in the marine market. We are now actively targeting customers who require new commercial engines or re-fits for existing specifications."