Braemar Engineering in Tie-up with Nigeria LNG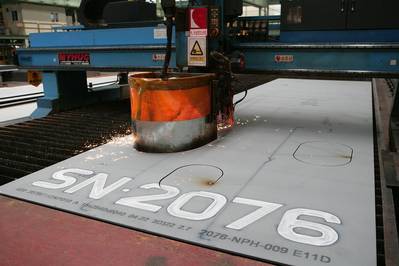 Braemar Engineering announced that it has been appointed to act as Shipping Consultants to Bonny Gas Transport, the wholly owned subsidiary of Nigeria LNG (NLNG) responsible for the transport of NLNG's output over the Atlantic to Europe and the Americas.


Braemar Engineering will oversee the building of six LNG carriers, from design to delivery, with completion of the project anticipated at the end of 2016.


Steel cutting on the first of the project's LNG carriers took place on April 25 at Samsung's Geoje shipyard in South Korea. Four of the vessels are being built by Samsung and two by Hyundai.


This consultancy project heralds a genuine partnership approach within the field of carrier design, construction and operation. Seven trainees from Nigeria were employed by Braemar Engineering early this year to take part in the programme. Reporting to the new Project Liaison officer, the highly qualified graduates work both in Braemar's head office and in various site positions developing their specialist knowledge.

Geoff Green, CEO of Braemar Engineering, heading up the initiative says: "The inception of this project began nearly 12 months ago, and we are pleased to now be in a position to make details known to the marketplace. This project is the fusion of Braemar Engineering's expertise in the LNG sector with Nigeria LNG's core values of integrity, teamwork, excellence and caring for people, to create a long term partnership offering benefits to both the industry and to the Nigerian community.


"The future of our industry depends on the quality of the people working within it, and we are committed to developing the skills of young talented individuals who will become the next generation of marine engineering specialists," he concludes.