Tugboat Navigator's Vision Enhancement Device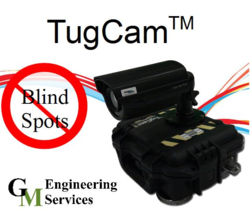 GM Engineering Services introduces its TugCam to eliminate blind spots and enable tugboat masters to see in complete darkness.
The TugCam is a rapidly deployable wireless camera system designed to increase the safety and efficiency of the captains and crew. The TugCam TC115 / TC116 camera system features infrared illuminators designed specifically for use on the water. Improvements extend all around the platform including easy to adjust zoom and focus and thumb screws to quickly tilt the camera in any direction. As with all TugCam's, this version contains a wireless transmitter with rechargeable battery and magnetic base to secure the TugCam to virtually any magnetic surface.
"A tugboat captain's most important objective is to make sure that he has his eyes around the vessel at all times," explains Captain Mike Mahlmann with Crofton Industries. "The TugCam is an excellent platform to allow me to place my eyes anywhere around the vessel or barge in a matter of a couple minutes. The TugCam should be standard equipment on every push where the captain does not have proper line-of-sight. In conjunction with a good deckhand, no captain should operate on brown water without a TugCam."

"We greatly appreciate Crofton Industries support of the latest version of the TugCam and their commitment to safety on our waterways," explains Mr. Christopher Machut, Chief Technology Officer with GM Engineering Services. "Our latest TugCam demonstrates GM Engineering Services ability to continually evolve and create quality situational awareness platforms ultimately making our waterways safer for all commercial and recreational traffic."