FSI Enhances Seismic Bubble Gun Family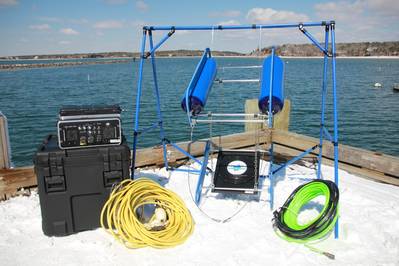 Falmouth Scientific, Inc. (FSI) announce two enhancements to its HMS-620 Bubble Gun portable seismic systems.
FSI''s Bubble Gun Systems are suited for small boat shallow water surveys. Data collected with the HMS-620 rivals that of much larger, heavier and more expensive air-gun, boomer and sparker systems. Its small size makes it easily deployable without the need for heavy machinery, winches or cranes.

Bubble Gun systems utilize a 15 cubic inch air volume to generate narrow band, low frequency acoustic signals. This proven technology provides signal penetration through coarse sand, gravel tills and other sediments.

New Dual Source System Available
By adding a second transmit channel to the existing transceiver enclosure, and by synchronizing the two signal generators, FSI has realized higher energy output, which results in much deeper signal penetration. The two Bubble Gun source transducers can be mounted together on one tow vehicle, or can be configured as two separate single-source vehicles.

New Battery Powered 24 VDC Option
All of FSI's Bubble Gun systems can be fitted with a 24 VDC power option which allows them to be powered by lead-acid marine batteries. This means that you can perform shallow water seismic surveys without the need for a generator or ship's power. Two deep-cycle marine batteries will allow over ten hours of survey time on a single charge. No generator noise, no fuel, no exhaust, all with no degradation of the data.