'USS Enterprise' Returns Home from Final Deployment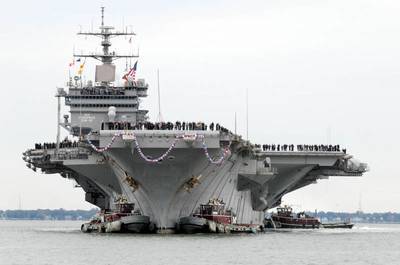 The 51-year-old flattop's legacy stretches back from the Iraq and Afghanistan wars to Vietnam.

Even before the Southeast Asia conflict, the carrier took part in the Cuban missile crisis when it was part of the blockade that forced the Soviets to remove nuclear missiles from Cuba, ending a tense standoff. The fleet's only active vessel commissioned earlier is the museum ship USS Constitution.

Enterprise was the first nuclear-powered aircraft carrier and in 1965 became the first of its kind to launch combat airstrikes, then against Vietnam. From the start, "Big E" has played an outsized role for the Navy. Gritty, steam-infused shots of its flight deck were featured in the 1986 hit film "Top Gun" and it was an inspiration for the cosmic flagship in "Star Trek."

On Dec. 1, the Enterprise will set another first: The first nuclear carrier ever inactivated by the Navy, a years-long process that will require the shipyard to tear through the decks and extract all eight nuclear reactors, a nuclear plant more complex than any before or since. Nimitz-class carriers, by contrast, have only two reactors. This complexity and Big E's age are likely to make the deactivation process expensive and laborious.