Drum Cussac Trains O&G Supply Entrepreneurs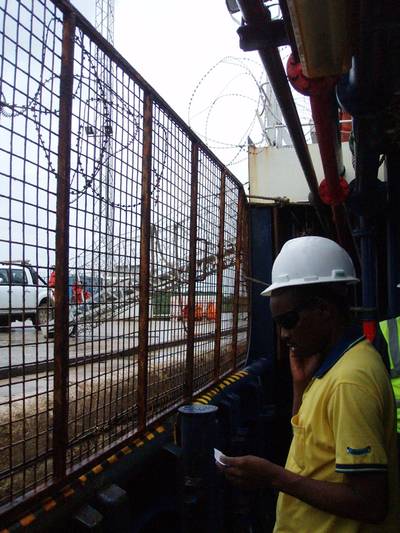 Drum Cussac said it is helping Tanzania's budding entrepreneurs cater to the requirements of the international oil and gas companies operating in the country, as part of its own Corporate Social Responsibility (CSR) initiative and a Tanzanian government vocational scheme.

In the coastal town of Mtwara, in southern Tanzania, Drum Cussac liaises with students at one of the country's many Vocational Education and Training Authority (VETA) centers, facilitating the provision and refurbishment of security panels for the offshore platform supply vessels serving the nearby oil rigs operated by BG Group.

Drum Cussac is responsible for maintaining the protection measures on the supply vessels for BG Group, and to that end the students' work is invaluable.

"This is a business opportunity for local, semi-skilled, workers," stressed Drum Cussac's Chief Executive Officer, Andrew Littlejohns. "These VETA students benefit directly from the presence of the oil and gas companies in Tanzania, and Drum Cussac and BG Group get a timely, professional service in the local area. This will have lasting, tangible and quantifiable benefits in the years to come. The local community has ownership of the whole project."

Drum Cussac's project manager on the ground in Mtwara, Chris Smith, explained how the students assess the requirements for each vessel and then make the panels and replacement panels for the BG Group vessels, under the tutelage of their Tanzanian teachers and a volunteer expatriate welding advisor.

Dickson Alloh, one of the VETA trainees, said, "I enrolled on the course because I wanted to learn about welding and metal fabrication, and I thought it would give me good employment prospects. Doinf practical work for BG Group has been very interesting. They provide all the material and tools so we can do the job for them. I am looking forward to setting up my own business eventually, but equally I may decide to get more experience and teach others."

Fellow student Petro Matase said he had opted for learning welding over a business marketing course. "When BG Group moved into the area I decided to enroll on this course. It is great to be learning a professional skill and I am proud that I will be able to provide for my family. I look forward to being able to serve the oil and gas conglomerates offshore and onshore for many years to come."

Briton Paul Burbidge has been the expert expatriate guiding and mentoring the students in their newly-found skills for the past two years.

"When we set up the project the facilities were quite poor," Burbidge explained. "But my Tanzanian counterparts, Lupakisyo Mapamba and Michael Wanga, were keen to work with me to modernise the workshop and it is now of a very high standard. Thanks to work like Drum Cussac and BG Group's contract, and project management from Voluntary Service Overseas (VSO), as well as getting solid work experience we have introduced City and Guilds standards for the trainees so they can also achieve an internationally-recognized qualification."

Voluntary Service Overseas, or VSO, is an international development charity which helps fight poverty using expert volunteers like Paul.

The VSO project manager in Mtwara, Mawazo Mataje, said he felt the project was an excellent collaboration which was creating a good legacy.

"As well as getting solid work experience, we have introduced City and Guilds standards for the trainees, so they can also achieve an internationally recognized qualification," Burbidge said.

"It is not all smooth sailing," he laughed. "The new modern technology can be overwhelming, especially for some students who don't even have electricity at home. But we build up their skill base slowly and surely and they seem very happy to be working with us, however hard on them we are when it comes to quality control."

VETA was established in 1994. It coordinates, finances and promotes vocational education at 28 centers across the country, including the one in Mtwara.

Drum Cussac has been working with BG Group for the past three years, providing maritime security expertise in support of offshore exploration operations.

Drum Cussac provides a highly-trained contingent of maritime security consultants aboard BG chartered maritime assets; their role being to work shoulder to shoulder with Tanzanian People's Defense Force personnel to support the protection of vessels and personnel.