Polymer Infrared Windows For Marine Enviroments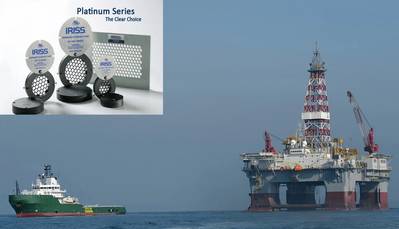 Polymer Infrared Windows For Marine Enviroments; the clear choice for reliable and accurate electrical inspection.


The new Platinum infrared inspection window from IRISS is supremely suited to marine and offshore applications characterized by temperatures extremes, high humidity, continuous vibration and high duty cycles. In harsh environments, Platinum offers distinct benefits over traditional, limited life fluoride crystal windows that easily shatter. As Platinum is made from a clear polymer it offers the same visibility as its crystal counterpart but uniquely it also provides impact resistance and carries an unlimited lifetime warranty.

IRISS is already known worldwide for its development of the first and only industrial grade infrared window, a technology that is now patented. The introduction of the Platinum Series is the result of continuous development of the original concept and in response to customer requests. And it has created an even greater divide between IRISS and its competitors. The capabilities of this IR window are made possible by the new IRISS Poly-View System™ patented clear polymer. And this removes the only benefit that a crystal window could claim over the originally opaque IRISS alternative – visual inspection.

Platinum exceeds industry standards as the only IR window suitable for electrical inspection in the UV, visual and all three infrared spectrums. A fixed and stable transmission rate is assured for accurate quantitative and qualitative analysis. It helps companies comply with NFPA 70E electrical safety standards and is fully certified and tested to UL, IEE, IP65/NEMA 4, Lloyds of London and the American Bureau of Shipping standards.

The offshore and marine sector employs substantial machinery, vast electrical installations and electronics systems that ideally need to be inspected with a thermal imaging camera. Indeed this technology is clearly the best means of compliance with SOLAS regulations that dictate that the maximum surface temperatures should not exceed 220◦C. As the IRISS Platinum range is suitable for use with any brand of thermal imaging camera, it can complement and enhance all predictive maintenance programmes.


By comparison with Platinum, a crystal window carries the significant risk of breakage, especially in the presence of vibration. Even an electrician slamming an enclosure door can cause a crystal window to shatter. Although many crystal windows are coated, if the coating does not cover all facets including the edges, water ingress will ultimately shorten its life. This type of window is also susceptible to UV damage that results in it becoming opaque, ineffective and unsafe.

In sharp contrast Platinum has an unconditional lifetime warranty against breakage. It is reinforced by an aluminium honeycomb grill and is not degraded by acids, alkalis, UV, moisture, humidity, vibration or high frequency noise. Whilst its competitors have to rely on features such as unique locking mechanisms as key selling points, Platinum can count on its proven and far superior, long term performance that saves customers time and money and assures personnel safety.

Process critical electrical components can be easily monitored under full load conditions by the thermographer without any danger of being exposed to energized equipment. And in addition Platinum eliminates the need for PPE. The potential cost savings achievable through the adoption of Platinum are therefore huge.

The IRISS Platinum Series is available in both round and rectangular window shapes with customizable features such as housing materials, gaskets, covers, locking devices, private labelling and colour. In addition, custom solutions with Poly-View System™ technology can be configured to virtually any shape or size – a capability that is not achievable with crystal technology.