World's First Ultrasound Port for Marine Enviroments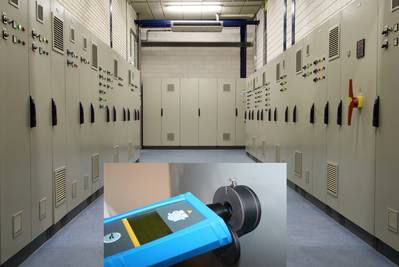 To complete its suite of inspection windows for maintenance engineers in the marine industry IRISS has introduced the world's first ultrasound port, the IRISS VP12. In common with the Platinum Window - its counterpart for ultraviolet, visual and infrared inspection - the IRISS VP12 complies with all important standards for operation in the marine environment.


It's highly cost effective too. Not only does the port allow quick and effective ultrasound inspection, the standard IRISS VP12 kit also includes an IR transmissive lens for optional and permanent use as an IR window for small targets or small IR camera lens apertures. In effect it's two products in one. The alternative grill opening complies with IP2X standard for maximum hole size in switchgear to prevent accidental insertion of tools and technicians' fingers.


Already endorsed by all leading manufacturers of ultrasonic instruments, the IRISS VP12 helps companies meet NFPA 70E electrical safety standards and SOLAS regulations. It makes an important contribution to systems reliability whilst cutting costs and saving lives in the process.


The IRISS VP12 ensures an ultrasound gun is best positioned to detect the early warning signs of failure using high sound quality to ensure viable readings. And importantly, it allows the procedure to be repeated accurately over time for trending and assessment of severity. The IRISS VP12 provides access to consistent quality data regardless of the technician's experience or enclosure rating.


When fitted in a NEMA rated enclosure, the IRISS VP12 creates the only access point where technicians, wearing appropriate PPE, can safely collect data on critical, energised equipment in accordance with NFPA 70E safety mandates.



Manufactured using non-conductive, UL94 switchgear-grade plastics and insulated to 30kV/mm, the IRISS VP12 is fully tested and certified to Lloyds of London and the American Bureau of Shipping standards. A lockable cover maintains an IP65/NEMA 4 seal when closed and the overall unit is impact and flame resistant in line with IEEE standards.


Ultrasound inspection is a popular technology in marine engineering for detecting arcing, tracking and in particular corona; all precursors to potential electrical distribution system and switchgear failure; and potentially fire. It is also suitable for pressure leak detection in compressed air, gas and vacuum systems and for monitoring wear and the general conditions of bearings and liquid flow. Tightness testing, for marine cargo hatches for example, is another potential application.