Mukilteo Ferry Terminal: WSDOT Release Environmental Study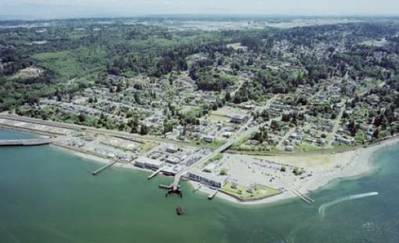 The 60-year old Mukilteo ferry terminal (about 25 miles north of Seattle) is one step closer to replacement with the release of a final environmental impact statement.

"We've reached a major milestone," said David Moseley, assistant secretary for the Washington State Department of Transportation, Ferries Division. "I want to thank all of the community members, tribes and agencies that reviewed and commented on the EIS to ensure all potential environmental impacts were addressed."

The Mukilteo terminal is the state's busiest terminal, serving nearly 4 million passengers last year. But it is vulnerable to earthquake and in need of major repairs to continue safe, reliable ferry service between Mukilteo and Clinton.

The environmental study examined the effects of four alternatives to replace the deteriorating facility. Two options would rebuild the terminal on the existing site and two would relocate the terminal to the abandoned tank farm property east of the current terminal.
The preferred alternative, known as a modified Elliot Point 2, relocates the ferry terminal to the western portion of abandoned tank farm property, one-third of a mile east of the existing terminal. WSF planners say this option would best avoid environmental impacts and address issues at the existing terminal, including necessary repairs to the aging dock and upgrades for pedestrian access and passenger connections to commuter rail and transit services.
The Mukilteo/Clinton route is WSF's busiest route for vehicle traffic and has the second highest annual ridership, serving more than 3.8 million riders in 2012.

The preferred alternative would cost approximately $140.9 million. The Legislature has allocated $108.2 million in state funds and federal funds for the project. To date, WSF has secured $21.6 million in federal planning and design grants to complete an environmental review. WSF will apply for additional federal funds now that the EIS process is nearly complete. The project's multimodal emphasis will make it highly competitive for securing additional federal funding.

The Federal Transit Administration is anticipated to issue a Record of Decision this summer, completing the environmental review process. WSF will then begin final design and construction as funding is available.

The final EIS and other documents are available for review here.