Rolls-Royce Signs 'Environship' Ferry Agreement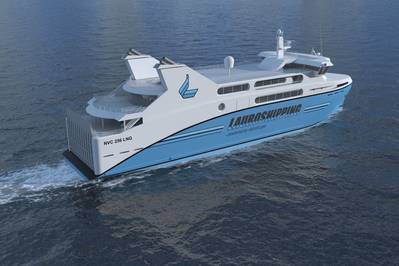 Rolls-Royce sign a teaming agreement with Italian company Lauro Shipping to design new gas-powered Environship-concept ferries.

This agreement marks the first time that a customer will utilise the Environship concept for a passenger vessel. This follows previous orders for cargo ships which all benefit from a range of Rolls-Royce technologies that will reduce CO2 emissions by up to 40 per cent compared to similar diesel powered ships.
Lauro Shipping is one of the largest ferry operators in Italy's Campania region, providing connections to the islands of Capri and Ischia and specialising in high speed ferries. The company has also recently acquired Siremar which operates services to Sicily.

This agreement covers the basic design of a new ship class, which will be scalable for smaller and larger versions. Rolls-Royce and Lauro Shipping will jointly develop the design, prior to engaging with suitable ship yards.

The NVC 256 will carry passengers and vehicles and is the latest ship design from the Rolls-Royce Environship range, incorporating a variety of features to reduce environmental impact while increasing efficiency, including an engine powered by LNG.

The new ferry concept will incorporate a Rolls-Royce solution including systems, equipment and ship design. This includes Bergen engines, a wave piercing bow and a Promas propulsion system which combines a propeller and rudder, reducing drag and enhancing manoeuvrability.

Another feature of the propulsion system is the Rolls-Royce Hybrid Shaft Generator (HSG) which produces electrical power from the propulsion engines instead of running auxiliary diesel generators. This optimises on board power generation, cutting fuel consumption and exhaust emissions.